You are here
Our future depends on you, Queen Rania tells teachers
By Laila Azzeh - Dec 06,2015 - Last updated at Dec 06,2015
Her Majesty Queen Rania addresses educators at the second Teacher Skills Forum on Sunday (Photo courtesy of Royal Court)
DEAD SEA — Her Majesty Queen Rania on Sunday underlined that the answers to the most difficult test of our times are not in books or texts, nor in forums or conferences, but lie in teachers and the values they instil in students.
Speaking at the second Teacher Skills Forum, the Queen cited the "pivotal" role of teachers, which she described as "sacred", especially in their ability to entrench commitment and ambition among students.
"And yet, I must confess, even I didn't appreciate how pivotal your role is until recently with all that has been unfolding around us lately," Her Majesty said.
"The dark conditions that the Arab world is going through today have increased my conviction that... our future depends on you," noted the Queen, wondering about the reasons behind events taking place in the region, namely conflicts, displacement and destruction.
"Let us put conspiracy theories aside and take responsibility for the situation we find ourselves in. We created this problem, and only we can solve it. And the solution is at the front of our classrooms every morning. It is you!"Addressing teachers, Queen Rania said: "what you teach them… how you treat them… what horizons you open up for them… what type of lens you picture the world and its people for them" are what make the difference.
"Your divine mission is not merely to fill their minds with information, but to build their character," she noted.
"Our fight against destructive ideas inevitably requires armies and weapons, but even after the biggest victory, the battlefield provides only temporary solutions — it bandages wounds, but does not stop the bleeding. You are aborting their ideologies and not allowing them to see light."
The Queen also underlined that educators are the "first line of defence in our fight to defeat the enemies of humanity".
"Just as nations arm their soldiers, it is our duty to enable you with the latest teaching skills and techniques. You are not only builders of the present... You give hope and create opportunities. You instil passion for knowledge and ambition... You paint in their minds the love of life in its brightest colours."She urged teachers to work hard to develop themselves, their skills and keep up with the requirements of their field. "You are entrusted with the minds of our children. What a responsibility and what an influence you have on our future!"
The Queen voiced hope that teachers will graduate a generation to the Arab world that "wants to live and coexist... a generation not shackled by fear, but emboldened by hope… not busy in the fight for a living, but motivated by ambition and achievement". "My commitment to empowering you is as large as the commitment and dedication to education I ask of you. Every one of us has a role and a responsibility," Her Majesty noted, expressing hope that the conference would bring forth a coalition of Arab teachers committed to carrying the message of light and a flame of hope for a better tomorrow.
The second Teacher Skills Forum opened on Saturday on the eastern shores of the Dead Sea, providing more than 1,000 educators from across the region a venue to discuss themes deemed essential to the development of their profession, including early, concept-based, differentiated and STEAM learning, which pertains to science, technology, engineering arts and maths.
The forum, held by the Queen Rania Teacher Academy (QRTA) and the International Baccalaureate, brings together the "largest" number of educators face-to-face with "masters of the profession worldwide".
If it were not for the gathering, Razan Zu'bi, director of Mahes Public Secondary School for Girls, would not have been able to explore new ways of teaching or perhaps know whether her methods of leading her school are sound or outdated.
"I believe that teachers' outlook on their profession changes after taking part in the forum. Nowadays, there are many players who shape students' views and if teachers do not update their skills, they will fall behind as influencers," Zu'bi told The Jordan Times on Saturday.
QRTA CEO Haif Bannayan highlighted that despite developments realised in the world of education, the "big, heavy load remains on teachers".
"The quality of education cannot exceed the quality of teachers… teachers are the main factor impacting students," he said during a session attended by Queen Rania.
Bannayan cited studies that show the direct correlation between students' academic performance and the economy.
"Investing in education is the path to social development and economic prosperity," he said.
The session, also attended by Deputy Prime Minister and Education Minister Mohammad Thneibat, Planning and International Cooperation Minister Imad Fakhoury and other senior officials, included a panel discussion on the critical role of educators and ways in which they can engage more with their pupils and ignite their curiosity for knowledge.
Also on Sunday, Her Majesty toured a fair held on the sidelines of the forum to showcase the products of several companies concerned with innovative educational solutions.
The Queen was acquainted with the function of the products and how teachers can utilise them for better educational outcomes.
Also on the sidelines of the forum, Queen Rania met with Canadian Ambassador to Jordan Bruno Saccomani and discussed progress in implementing an agreement signed with the Canadian government last year to support QRTA's efforts to train and rehabilitate teachers over a five-year period in cooperation with the Education Ministry.
Related Articles
Dec 07,2015
AMMAN — The second Teacher Skills Forum concluded on Sunday after two days of intensive activities that enlightened hundreds of educators fr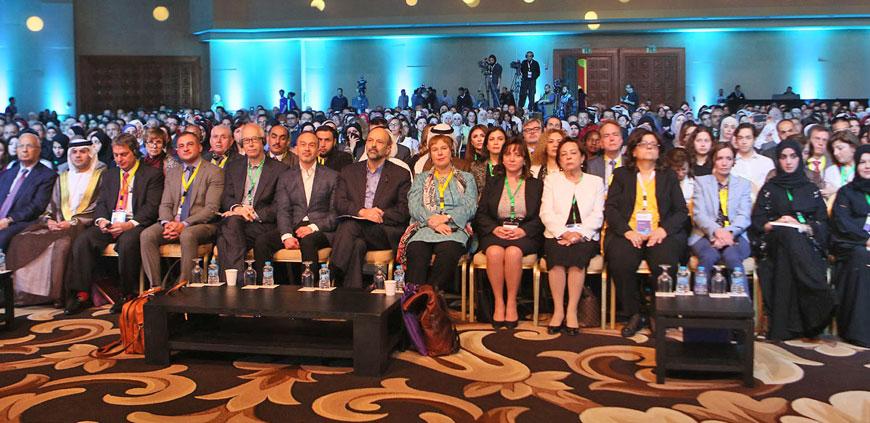 Mar 04,2018
AMMAN — Under the patronage of Her Majesty Queen Rania, the fourth Teacher Skills Forum was held on Saturday in the Dead Sea area under the
Sep 06,2014
The Queen Rania Teacher Academy (QRTA) is organising a regional "Teacher Skills Forum" in early December, the academy said in a statement released Saturday.
Newsletter
Get top stories and blog posts emailed to you each day.