You are here
Only citizens should benefit from subsidies — PM
By JT - Oct 04,2017 - Last updated at Oct 04,2017
AMMAN — Prime Minister Hani Mulki has said that all subsidised commodities are being currently under study regarding the sales tax, stressing that only citizens should benefit from subsidies.
Speaking at a meeting with municipal council presidents held at Al Hussein Cultural Centre on Tuesday, Mulki said that it is unacceptable for non-Jordanians to benefit from tax exemptions, which affect the Jordanian economy and citizens, especially in light of the fact that about one-third of the Kingdom's population are non-Jordanians and they benefit from tax exemptions on goods.
The meeting was part of a dialogue initiated by the government with stakeholders to discuss solutions to the economic challenges facing Jordan.
The prime minister reviewed the main features and the pillars of the financial and structural reform programme, pointing out that the economic challenges that Jordan has been going through for several years are due to different reasons, including external ones like the Syrian refugee influx, and internal reasons like the unjustified sales tax exemptions.
He stressed that the main goal to be achieved at this stage is self-reliance, noting that the reform measures initiated by the government last year contributed to keeping the debt ratio to gross domestic product unchanged, noting that it reached 95.2 per cent last year, while it stands now at 94.7 per cent.
On the amendments to the Income Tax Law, Mulki affirmed that the government is committed to the directives of His Majesty King Abdullah to protect the middle- and low-income classes, and that there will be no change in the segments related to individuals and families.
He stressed that the amendments of law aim to raise the efficiency of tax collection and to harshen the penalties on those convicted of tax evasion, a practice that is "a crime against Jordan".
The prime minister noted that severe penalties will be imposed on cases of tax evasion up to imprisonment that is irreplaceable with fines.
He announced that a special investigation unit is being established for tax related violations.
The meeting was attended by Minister of Political and Parliamentary Affairs and Minister of State Musa Maaytah, Minister of Municipal Affairs Walid Masri, Minister of State for Media Affairs Mohammad Momani, Minister of Transport Jamil Mujahed and the Mayor of Amman Yousef Shawarbeh.
Related Articles
Oct 02,2017
AMMAN — Prime Minister Hani Mulki on Monday said that the government will not reduce the income exemptions to individuals or families, and w
Oct 08,2017
AMMAN — Senate and Lower House Finance Committees' Presidents MPs Raji Muahser and Ahmad Safadi on Friday stressed the importance of directi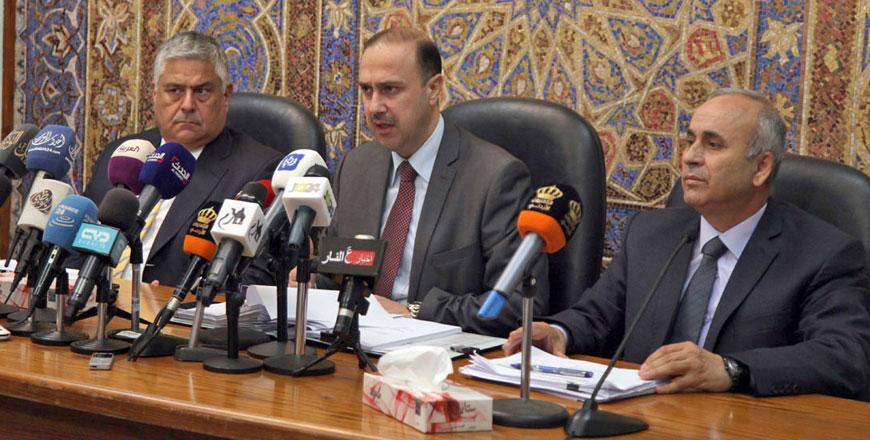 May 22,2018
AMMAN — The government on Monday endorsed the income tax draft law and said it will refer it to the Lower House on Tuesday to get it through
Newsletter
Get top stories and blog posts emailed to you each day.