You are here
No plans to reverse tax increase on mobile subscriptions — Sleit
By Mohammad Ghazal - Jul 07,2014 - Last updated at Jul 07,2014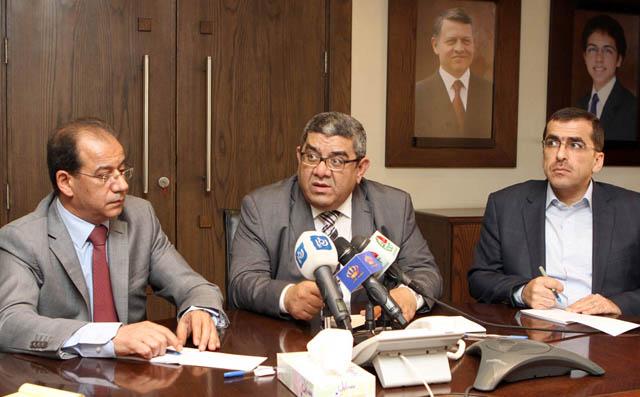 AMMAN — The government on Monday said it is no longer looking into alternatives to rescind a decision that increased taxes on mobile subscriptions, which telecom companies say has caused a drop in their profits and revenues.
"Proposals that were suggested by the telecom operators as alternatives to go back on increasing the special mobile tax are not on the table for discussion," ICT Minister Azzam Sleit told reporters.
When the government raised taxes on mobile phone subscriptions from 12 per cent to 24 per cent last year, telecos suggested alternatives to generate revenues.
The Kingdom's three operators — Zain Jordan, Orange Jordan and Umniah — proposed increasing roaming fees as well as charges for international call termination, saying this would generate revenues for the government while at the same time not affect companies or users in Jordan.
A source in the telecom sector said that the companies' revenues dropped by an average of 7 per cent during the first quarter of 2014 due to the tax increase, adding that net profits have also declined.
But Sleit said the drop is no cause for worry.
"Yes. There is a drop in telecom operators' profits in Jordan. But this is OK because there is drop in telecos' profits everywhere in the world."
He added that telecos in Jordan are still making higher profits than telecom operators in other countries.
Stressing the importance of the ICT sector to the country's economy, Sleit said the government does not view the telecom sector as a source of revenue but rather as a main player in the field of development.
He called on telecos to enhance their services in the Kingdom.
up
34 users have voted, including you.
Related Articles
Jan 29,2014
The government on Wednesday said it was still studying the impact of doubling the tax on mobile subscriptions, while a source in the telecom industry said the authorities are expected to reduce the tax.
Sep 10,2014
Revenues generated by the ICT sector in 2013 dropped by 4 per cent to $2.2 billion compared with $2.3 billion a year earlier, according to a recent survey.
Jan 26,2014
Revenues of the country's telecom sector have dropped by 9 per cent since the government increased taxes on cellular phones and mobile subscriptions, a representative of the sector said on Sunday.
Newsletter
Get top stories and blog posts emailed to you each day.