You are here
Music conservatory aims to nurture child development through folk songs
By Muath Freij - Mar 20,2017 - Last updated at Mar 20,2017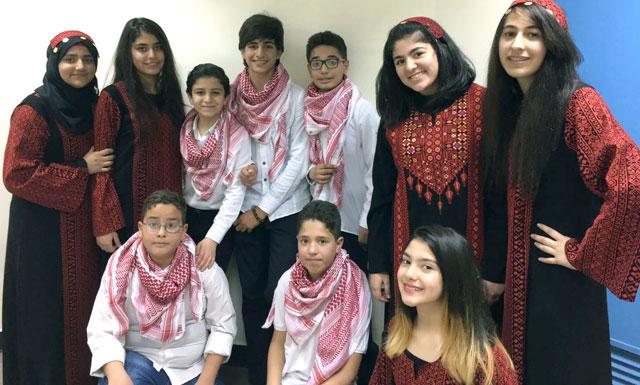 Participants pose for a photo during the final concert of a project by the National Music Conservatory, supported by USAID, at Al Hussein Cultural Centre in Amman last week (Photo by Muath Freij)
AMMAN — It was at the age of eight that Rama Hayajneh's passion for music first emerged, but she found little support for her musical instincts in her childhood surroundings.
The absence of music in her school classroom in Zarqa, 22km northeast of Amman, she said, forced her to postpone her musical dreams, though she remained eager to one day master her hobby.
A decade later, a project by the National Music Conservatory (NMC), supported by USAID aimed to use music as a tool to enhance child development, finally helped 18-year-old Hayajnah to realise her dream.
"It was a bit challenging for me in the beginning because it was something new for me, but after practising music, it became easier for me," she told The Jordan Times in a recent interview at the project's closing concert.
Rana Rizq Allah, NMC managing director, said the project was launched in October 2015, and there is a chance it will continue in the near future.
"The project is based on training children to sing Jordanian traditional and folk songs. The children underwent several stages to learn different kinds of musical techniques," she added.
Though music is taught in schools, Rizq Allah said, the conservatory wanted to introduce music as a tool for student development.
"It is a good method for the students to enjoy their free time and something useful they can work on," she added.
Around 240 students from six schools in Rusaifah, Zarqa, Ain Al Basha and Salt benefited from this project, according to the NMC official.
Sakher Hattar, who taught children during the project, said one of the main issues they took into consideration was to preserve Jordan's musical heritage amid children's attraction towards Western music.
Bisan Mustafa, a music teacher in the programme, described the project as "vital", because it targeted areas where music often does not reach.
"Music gives a sense of calm and peace and protects children from having their thoughts spoiled by the outside world," she added.
Kathy Tin, of USAID, said it is extremely important to expand the outreach of this project to all governorates.
Ayman Okour, the head of the media committee at Jordan Teachers Association branch in Irbid, said: "Music is as important as any other material at school if it is utilised to enhance children's skills."
For Hayajnah, the luxury of music lessons should not be limited to a select few.
"It should not be designed and limited to a specific segment of society; everyone has to learn and enjoy music," she said.
Related Articles
May 31,2016
AMMAN — Haya Cultural Centre and the National Music Conservatory (NMC) on Monday signed a cooperation agreement to establish a music academy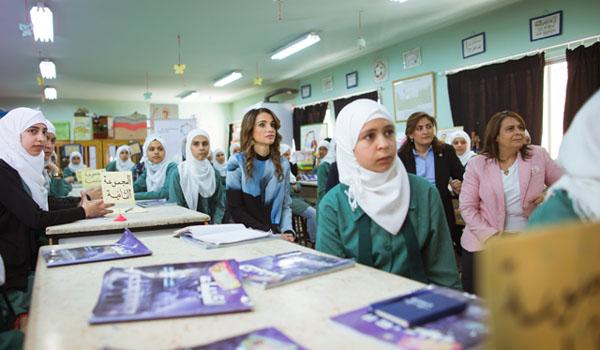 May 13,2015
Her Majesty Queen Rania on Wednesday visited the Shifa Bint Awf School for Girls and checked on the progress of several educational projects carried out by the Jordan Education Initiative (JEI), as well as the Watan Music Chamber. 
Oct 27,2014
Celebrated Venezuelan composer and conductor Pedro Mauricio Gonzalez Brito is in Jordan for a special concert.
Newsletter
Get top stories and blog posts emailed to you each day.