You are here
Municipalities in hot areas reduce working hours for outdoor labourers
By Laila Azzeh - Jun 16,2016 - Last updated at Jun 16,2016
A sanitation labourer works in Amman recently. The Sharhabeel Bin Hasna, Muath Bin Jabal, and central and southern Shuneh municipalities decided on Wednesday to reduce working hours for outdoor labourers (Photo by Amjad Ghsoun)
AMMAN — The "unbearable" weather conditions have prompted municipalities in the hottest areas of the Kingdom to reduce working hours for farmers and sanitation workers during Ramadan.
Working outdoors, farmers and cleaners in the Jordan Valley and Shuneh areas are also given the choice to work in the afternoon to avoid the heat during peak hours.
"These days are so difficult for us, especially for farmers and cleaners who work outdoors," Salem Khleifat, the mayor of the Southern Jordan Valley, told The Jordan Times on Wednesday.
The Sharhabeel Bin Hasna, Muath Bin Jabal, and central and southern Shuneh municipalities decided on Wednesday to reduce working hours for outdoor labourers and to allow them to work in the afternoon instead of in the morning during Ramadan, when Muslims fast during daylight hours.
Muath Bin Jabal Mayor Ali Dablaki said the decision is meant to ensure workers' safety.
"We are committed to protecting our employees. Hot spells during Ramadan can cause dehydration and sunstrokes," he noted.
Temperatures reached their peak on Wednesday in the Jordan Valley, with temperatures soaring to 43°C, according to the Jordan Meteorological Department (JMD).
A drop in temperatures is forecast for Thursday, when the hot air mass is expected to abate, according to the JMD.
The weather will be moderate in mountainous areas, relatively hot in the badia and eastern plains and hot in the Dead Sea, Aqaba and the Jordan Valley, according to the department.
Temperatures on Thursday will reach a high of 30ºC, dropping to a low of 16ºC at night in Amman, while winds will be northwesterly moderate to brisk at times and raising dust in the desert.
In the Jordan Valley, temperatures are expected to range between a high of 38ºC and a low of 19ºC.
Related Articles
Jun 28,2014
The Kingdom will remain under the impact of a heatwave on Sunday that brought hot and dry weather and pushed temperatures six degrees above the annual average, according to the Jordan Meteorological Department (JMD).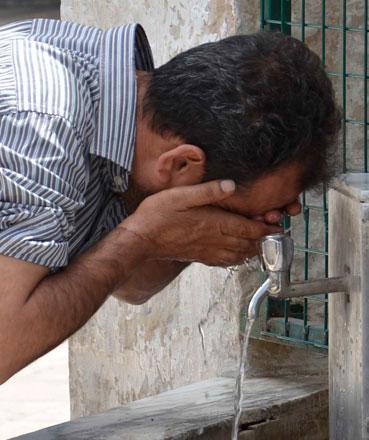 May 14,2016
AMMAN — Temperatures this week will rise 11°C above their annual average for this time of the year, as the season's first heatwave takes hol
Jul 31,2015
AMMAN — The country will be affected as of Saturday by a heatwave which will push temperatures seven degrees above their annual average for
Newsletter
Get top stories and blog posts emailed to you each day.