You are here
Momani hails Q1 growth as sign of economic reforms' success
By JT - Apr 21,2017 - Last updated at Apr 21,2017
AMMAN — Jordan saw improvements of some indicators in the first quarter of this year, including exports, tourism and remittances by Jordanian expatriates, Minister of State for Media Affairs Mohammad Momani said on Thursday.
Speaking at the Jordan Radio and Television Corporation's "Akhbar wa Hewar" talk show, Momani said the government's economic reform programme aims to accelerate economic growth, the Jordan News Agency, Petra, reported.
The government hopes that this year's growth rates will help the Kingdom to face economic and financial challenges, the minister explained, adding that the encouraging figures demonstrate that Jordan's economic reforms can boost growth.
Increased growth rates are a strategic goal for the national economic reform programme to reduce the ratio of debt to gross domestic product, provide jobs and reduce unemployment and poverty, as well as to improve citizens' living conditions.
The Cabinet on Wednesday also decided to adopt the Badia development programme as a reference document for development efforts targeting Badia between 2017 and 2019, Momani said, noting that it is part of a set of integrated programmes to help local communities and civil society institutions in the Badia receive funding for development projects through the Planning and International Cooperation Ministry.
The document is the result of consultations with numerous institutions working in the field, most significantly the Hashemite Fund for the Development of the Jordan Badia, the minister said, noting that there is continuous coordination between the planning ministry, the fund and other institutions to evaluate the needs of remote areas that suffer from declining growth rates, widespread poverty and high unemployment rates.
Speaking of international exports, Momani, who is also the government's spokesperson, noted that a Jordanian company has benefited from the deal with the EU to simplify the rules of origin, exporting shipments of plastic products to Spain and Cyprus.
He highlighted that the company adhered to the government's legal framework in order to export to the European market.
The government will continue working to establish legal and economic guidelines that enable companies to invest properly and reach international markets, Momnai concluded.
Related Articles
Dec 21,2017
AMMAN — Minister of Planning and International Cooperation Imad Fakhoury on Wednesday attended the ceremony to launch the World Bank's perio
Nov 21,2017
AMMAN — Jordan managed to transform the so-called Arab Spring into an "opportunity for reforms", while some other Arab countries have witnes
Jul 30,2015
AMMAN — The Ministry of Industry, Trade and Supply is currently coordinating with the Jordan Chamber of Industry to open new markets for Jor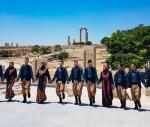 Newsletter
Get top stories and blog posts emailed to you each day.