You are here
Mental Health Day celebrated in Jordan
By Camille Dupire - Oct 10,2018 - Last updated at Oct 10,2018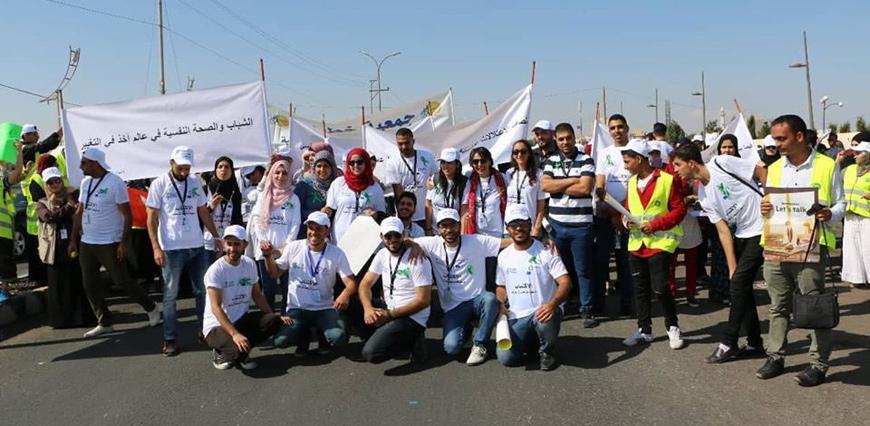 Participants in the march seek to raise awareness of the dangers of mental illness among young people on Wednesday (Photo courtesy of Céline Carré/ ACF)
AMMAN — While half of all mental illness begins by the age of 14, most cases remain undetected and untreated for years, if they ever are at all, the World Health Organisation (WHO) said in a recent statement published on the occasion of World Mental Health Day, marked annually on October 10.
Citing depression as the third leading cause of illness and disability among adolescents and suicide as the second leading cause of death among 15-29 years old, the WHO called on better recognition by society and further investment in prevention campaigns by relevant stakeholders.
To convey these messages, the WHO partnered with the ministry and the directorate of health to support Action Against Hunger's (ACF) "Let's Walk" awareness event, held on Wednesday as part of the global campaign "Young People and Mental Health in a Changing World".
Conducted alongside a similar event in Iraq's Dohuk, the march saw over 200 people taking part in a 1.7km walk aimed at raising awareness of the dangers of mental illness among young people.
"A full picture of health encompasses a person's physical, mental and social well-being. Since prevention of mental illness begins with better understanding, raising awareness with communities on the crucial role of mental health with this age group, when Jordan is facing a youth bulge, will set the country on the right track for a healthy future," Kendra Hughbanks, ACF deputy country director in charge of programmes told The Jordan Times on Wednesday.
With the support of the French Agency for Development and the EU Regional Trust Fund in Response to the Syrian Crisis "Madad", the event was implemented in collaboration with high school and university students, NGOs, youth centres and community based organisations, representatives from the Ministry of Health and the WHO as well as health professionals and mental health patients, according to ACF Mental Health and Psychosocial Programme Manager Nour Saeed.
She told The Jordan Times that one of the participants, who suffers from a mental health disorder, said: "I feel so happy that people care about our mental health needs and that I can share my success story with the community."
Many participants voiced their pride to take part in the march, some saying they will start walking every day "as a coping strategy to their suffering".
Thirteen key messages were conveyed throughout the day, such as "Listen, build trust and share your life experience with adolescents" or "Encouraging, supporting and guiding adolescents helps them to be self-confident, to make healthy decisions, to overpass their difficulties and to achieve their hopes and goals."
For the participants, this was a crucial aspect of awareness raising, giving them more insight into the intricacies of mental health issues.
"I think I have a better knowledge about mental health now and what depression means. I understand the definitions and can talk about it," said Suhail, one of the participants, noting that "he will spread the key messages at his school and with his family". (names were changed for anonymity purposes).
Health professionals, too, highlighted the importance of such an event, with one psychiatrist saying "I am so happy to share the information about mental health instead of treating people only."
Following the march, participants were invited to take part in the "Flying Balloons" activity, where they wrote negative thoughts or actions that create stress or sadness in their life, before letting the balloon fly away with their negative words.
A young boy participating in the balloon release said: "Now I feel like I can deal better with my problems, and I feel like I am not alone anymore," while another teenager beamed, saying "I am happy now, no depression anymore" as his balloon flew away.
"Much can be done to help build mental resilience from an early age to help prevent mental distress and illness among adolescents and young adults, and to manage and recover from mental illness," WHO said in a statement sent to The Jordan Times, stressing that "prevention begins with being aware of and understanding the early warning signs and symptoms of mental illness".
While data on mental health issues in Jordan remain scarce, the Criminal Investigation Department (CID) recently said that 104 people committed suicide since the start of 2017, while 388 attempted to, a sharp rise from the 39 suicides recorded in 2011, according to the CID.
The WHO urged parents and teachers to help build life skills of children and adolescents to help them cope with everyday challenges at home and at school, while encouraging the provision of psychosocial support in various settings.
"Investment by governments and the involvement of the social, health and education sectors in comprehensive, integrated, evidence-based programmes for the mental health of young people is essential," the statement underscored, calling for the implementation of programmes to raise awareness among adolescents and young adults on ways to look after their mental health and to help support their peers.
Newsletter
Get top stories and blog posts emailed to you each day.