You are here
Media minister urges better performance by state agencies' spokespersons
By JT - Sep 14,2015 - Last updated at Sep 15,2015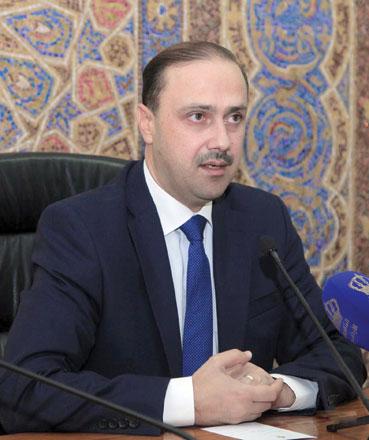 Minister of State for Media Affairs and Communications Mohammad Momani speaks during a meeting with government agencies' spokespersons in Amman on Monday (Petra photo)
AMMAN — Minister of State for Media Affairs and Communications Mohammad Momani, who is also government spokesperson, on Monday urged official spokespersons to be open to the media and use the official media outlets to communicate their ministries' and departments' messages.
Momani made his remarks during a meeting with media spokespersons, attended by Jordan News Agency, Petra, Director General Faisal Shboul and Jordan Radio and Television Corporation Director General Mohammad Tarawneh, Petra reported.
Momani said he contacts spokespersons on daily to follow up on issues related to their institutions and ministries, urging them to prepare reports on their achievements, refer them to their seniors and supply him with copies to check on the most significant issues being dealt with.
The minister said the government would continuously communicate with spokespersons and there would be regular meetings held with them.
Momani also asked the spokespeople to share with his office suggestions and opinions on ways to activate the performance of their ministries and institutions in the media and communications field. The suggestions will help draw up a proper plan to be implemented in coordination with stakeholders, he said.
Moreover, he urged spokespersons to be well-rounded on all domestic issues so as to be able to provide accurate and clear answers when necessary.
The minister called on the spokespeople to continuously communicate with official media outlets, to communicate any information they need through them or to use the minister's office in this regard.
Commenting on recent local developments, Momani underlined the intensified Royal efforts to serve Jordan's interests, citing in particular His Majesty King Abdullah's recent visit to China, which "highlighted several messages" including Jordan's status on the international arena.
Momani outlined the government's position on external and internal issues, including the reform-oriented laws on elections, political parties, decentralisation and municipalities. He highlighted the advantages of each law for the Kingdom's politics and Jordanian's participation in the political process as well as marginalised society segments.
Momani said he would be holding regular meetings with spokespeople and representatives of media outlets to speak about developments and recent issues.
Related Articles
Jul 14,2016
AMMAN — Minister of State for Media Affairs Mohammad Momani on Thursday stressed the importance of spokespersons in clarifying the role of i
Mar 15,2015
Jordan opposes hate speech, and incitement and will not allow them to be part of or dominate any of the country's media outlets, Government Spokesperson Mohammad Momani said late Saturday.
Feb 07,2015
Minister of State for Media Affairs and Communications Mohammad Momani on Saturday praised the "professional and objective" performance of local, regional and international media outlets in dealing with the "heinous crime" committed by the so-called Islamic State group against pilot Muath Kasasbeh.
Newsletter
Get top stories and blog posts emailed to you each day.