You are here
Lower House okays referral of two former ministers to court
Lawmakers decline to lift immunity from two colleagues
By Raed Omari - Dec 09,2019 - Last updated at Dec 09,2019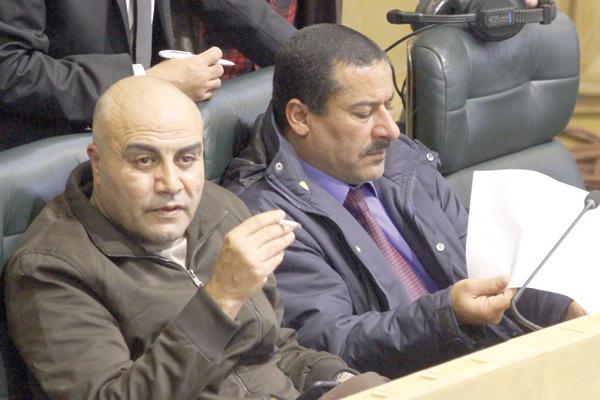 MPs Saddah Habashneh (left) and Ghazi Hawamleh are seen attending the Sunday's Lower House session (Photo by Hasan Tamimi)
AMMAN — The Lower House on Sunday gave the go-ahead for impeachment proceedings against two former ministers while turning down a petition on lifting immunity from two MPs by the Prosecutor General.
An overwhelming majority of lawmakers voted in favour of a petition to refer former ministers of public works and housing Sami Halasa and environment Taher Shakhshir to court to proceed with a lawsuit involving them.
A well-informed source told The Jordan Times that the lawsuit is related to the issuance of tenders for construction projects in southern governorates.
The House Legal Committee has recommended that the two former ministers be referred to court after sufficient reason in the likelihood of violations and misuse of public office was found during the impeachment inquiry.
Meanwhile, a majority of MPs turned down a petition by the Prosecutor General on lifting immunity from deputies Saddah Habashneh (Karak) and Ghazi Hawamleh (Tafileh).
The government has sent a petition to the House requesting lifting immunity from outspoken Habashneh, which was initially implemented for "circulating defamatory statements on social media in violation of the Cybercrimes Law".
According to Article 86 of the Constitution, "No Senator or Deputy may be detained or tried during the currency of the sessions of the National Assembly unless the House to which he belongs decides by an absolute majority that there is sufficient reason for his detention or trial or unless he was arrested flagrant delicto."
Newsletter
Get top stories and blog posts emailed to you each day.