You are here
KOICA joins Jordan's anti-virus fight, donates PPEs to IMC clinics
By JT - Jul 29,2020 - Last updated at Jul 29,2020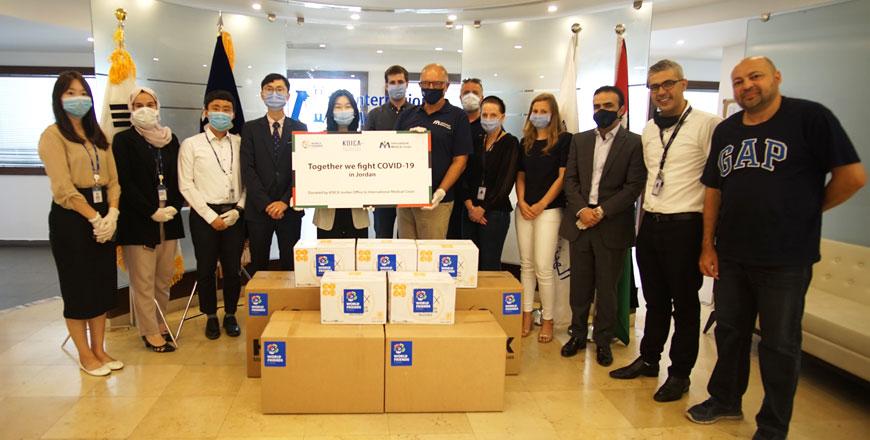 Teams from the Korea International Cooperation Agency Jordan and the International Medical Corps pose for a group photo during a ceremony to donate medical aid on Tuesday (Photo courtesy of KOCIA)
AMMAN — The Korea International Cooperation Agency (KOICA) Jordan Office on Tuesday donated anti-COVID-19 personal protective equipment (PPEs) to clinics and hospitals affiliated with International Medical Corps (IMC) in Zaatari and Azraq Syrian refugee camps, and urban communities in Irbid.
The medical aid contributes to the Jordanian government's response plan to fight COVID-19, which highlights the importance of wearing PPEs in public places for better protection, in addition to KOICA's belief that all should have access to proper PPEs to help prevent the spread of the coronavirus, according to an agency statement.
The aid package included 50,000 face masks with Bacterial Filtration Efficiency, 105,000 gloves, 3,000 surgical gowns and 200 protective goggles.
"Through this extremely vital support, the IMC will be able to ensure the continued provision of life-saving health services and COVID-19 preventative measures within Jordan's refugee camps as well as within urban locations. Simultaneously, through this support, the IMC will be able to ensure the continued safety of all its medical staff and patients," read the statement.
KOICA, in the statement, expressed its contentment to be part of Jordan's national response plan to fight COVID-19.
In the statement, the agency expressed hope that through this donation, KOICA would contribute to the "great efforts" of the Jordanian government and the IMC in mitigating COVID-19's impact on refugees and vulnerable communities in Jordan.
KOICA is a governmental agency operating under the Korean Ministry of Foreign Affairs to implement the Korean government's aid assistance to 112 partner countries.
Since its establishment in Jordan in 2005, KOICA Jordan Office has implemented numerous activities within its three main programmes. The first is projects that support the socio-economic development, including, dispatching experts, providing equipment, building infrastructure and providing technical assistance.
The second is Fellowship Programme, which is dedicated to supporting the capacity building of human resources for development purposes.
The third titled World Friends Korea Volunteers Programme focuses on sharing knowledge, skills and experiences through dispatching Korean volunteers to various public institutes in Jordan in over 30 professions, the statement noted.
The IMC is a global, nonprofit, humanitarian aid organisation dedicated to saving lives and relieving suffering by providing emergency relief and development programs to those in great need.
Within Jordan, the IMC has been active since 2007, while implementing vital programmes across all 12 governorates in Jordan, covering urban areas as well as responding to the needs of refugees in Zaatari and Azraq camps, concluded the statement.
Newsletter
Get top stories and blog posts emailed to you each day.