You are here
Kingdom must not be left alone with refugee burden — French PM
By Muath Freij , Petra - Oct 12,2015 - Last updated at Oct 12,2015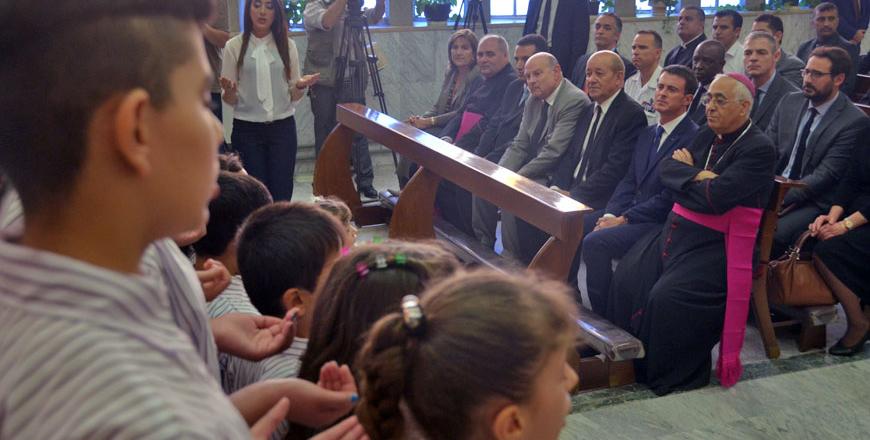 Iraqi children welcome French Prime Minister Manuel Valls in song during a visit to the Church of St Mary Mother of the Church in Marka, Amman, on Monday (Photo by Muath Freij)
AMMAN – Jordan must not be left alone to carry the burden of hosting refugees, French Prime Minister Manuel Valls said Monday, stressing that the limited resources in the Kingdom are not enough to serve this great number of people.
During a visit to the Church of St Mary Mother of the Church in Marka, Valls took a firsthand look at the situation of Iraqi refugee families who have taken up residence at the church.
The French premier said he sees in the families hope for a better future, stressing that Christians are an integral part of the Middle East and should not leave the region.
Iraqi families that met with Valls said it is difficult for them to return to Iraq under the current circumstances, calling for increasing support for Jordan to enable it to provide them with decent housing.
At the church, the premier was greeted by Iraqi children in song, and he distributed balls and jerseys to the youths.
He also received a painting by an Iraqi child depicting the migration of Iraqi families from the city of Mosul after its fall to Daesh.
Wael Suleiman, director of Caritas Jordan, said the organisation's stance on peace in the region is clear.
"The French premier asked what more France can do for our region, and our response is clear… support host countries like Jordan, increase the number of schools dealing with the refugees, work on Jordan's infrastructure, and make a concerted political effort to bring about peace in the region," he told The Jordan Times.
The director also stressed that the Jordanian people are facing difficulties as a result of prolonged conflicts in the region, and the lack of job opportunities and water.
According to Suleiman, there are currently 1,400 Iraqi children studying at schools in Amman and a total of 8,000 Iraqi Christians who fled Mosul living in churches and houses in the Kingdom.
Father Rifat Bader, director of the Catholic Centre for Studies and Media, told The Jordan Times: "The international community needs to help Jordan provide refugees with schools, food and medical services. The refugees are looking to the future, although there are no signs of hope on the horizon. The key solution is to resolve the situation inside Iraq and Syria."
Father Khalil Jaar, director of the Messengers of Peace Association and pastor of the Church of St Mary Mother of the Church, emphasised that for many Iraqis both options of returning home or staying in Jordan are "impossible".
"The European countries could have cooperated with host countries to accept specific numbers of refugees instead of waiting until this unorganised wave of refugee immigration starting moving to Europe," he told The Jordan Times.
Twelve Iraqi families currently live in his church in Marka, with a further 400 Christian and Muslim Iraqi and Syrian families nearby being taken care of by the house of worship.
"We provide them with food and drink, and we manage to provide the children with education inside the church," Jaar added, noting that 210 students benefit from the church's educational services.
The pastor said that it is he who personally teaches the children, encouraging them to engage in various activities from 3pm until 6:30pm in order to keep them off the streets. He added that the church sends buses to transport the children to and from their lessons.
Iraqi refugee Raad Fathallah told The Jordan Times that he will be able to feel a sense of stability when his request to move to Europe is approved.
The father of two said that although Jordan welcomed his family after fleeing the violence in Mosul city, he feels that the best future for his children lies abroad.
"The conditions we have lived through from the fall of Saddam Hussein's regime until today have been difficult. Terrorism has plagued my country and there are many armed gangs and kidnappings, which has forced my children to forego their high school and university education and leave Iraq," he said while waiting to receive the French prime minister.
"My children enjoyed their education. They want to study and I want to secure this for them," he added, maintaining that their current situation is "unstable".
The refugee stated that he feels there is no hope for stability in Iraq and that living in Jordan is difficult as Iraqis no longer receive their salaries from their home country, saying "then how can we live in Jordan? I don't know how much longer I can stay here."
Related Articles
Oct 11,2015
AMMAN – France's Prime Minister Manuel Valls is due to arrive in Amman Sunday as part of a regional tour that will also take him to Egypt an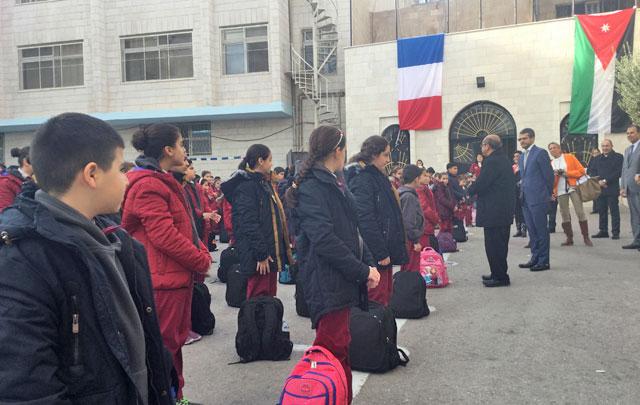 Dec 12,2017
MARKA — The French embassy in Jordan on Tuesday signed a funding agreement with the non-governmental organisation Messengers of Peace Jordan
Dec 18,2017
AMMAN — Inside a church in Jordan, a displaced Iraqi Christian mother dreams of a brighter future for her children far from the war-torn cou
Newsletter
Get top stories and blog posts emailed to you each day.