You are here
King urges 'alternative' sources of public revenues
By JT - Jan 11,2017 - Last updated at Jan 11,2017
His Majesty King Abdullah meets with leading senators and MPs in Amman on Tuesday (Photo courtesy of Royal Court)
AMMAN — His Majesty King Abdullah on Tuesday stressed the importance of protecting those with low and middle incomes, especially given the current economic climate.
Meeting with Senate President Faisal Fayez, Lower House Speaker Atef Tarawneh and members of both chambers at his office at Al Husseiniya Palace, His Majesty said he had directed the government to reconsider proposed financial reforms, and to find alternatives that would protect lower earners.
King Abdullah added that increasing the growth rate and competitiveness of the national economy are the foundations for boosting the economy, according to a Royal Court statement.
The King said that the region is in a state of war and "we are trying to increase the economic growth and address unemployment among young people", stressing that "we have to be realistic regarding what we can achieve this year".
The Monarch highlighted his efforts abroad to secure support for Jordan, not because the Kingdom is unable to support itself, he said, but because it shoulders the responsibilities of others more than any other neighbouring country.
He also noted that Jordan is going through one of the most difficult stages the Middle East has ever faced, and one that not only affects Jordan, but the entire region.
His Majesty reiterated that this year, the Kingdom has to deal with regional and global changes that pose as threats, and has an important role to play as host to the next Arab League summit .
The King highlighted the importance of standing together — government, senators, deputies, ministries and national institutions — in order to move forward and overcome challenges.
"There is no one more concerned about the homeland and its citizens than I; nor is there anybody who knows the economic, political and security challenges better than I do, and I'm completely confident that we can overcome these hardships," His Majesty added.
He spoke of the need for cooperation between the government and both chambers of Parliament to enact economic legislation in the next phase of the country's development process.
Referring to his Sixth Discussion Paper, issued last year, His Majesty reiterated his belief that the rule of law is a concept and culture, as well as procedures, decisions and actions.
He stressed, at the same time, that no one shall be above the law or exempted from any anti-corruption scrutiny should he or she be a suspect.
"We will respect and protect every citizen in this country and not allow anybody to disrespect another. We will also not allow anybody to hurt the feelings of our people, regardless of their religion or ethnicity, nor to spread hatred and distorted ideologies among the people," the King added.
King Abdullah also said that there is no place in the Kingdom's departments, ministries or institutions for those "who do not respect our martyrs and do not appreciate citizens' sacrifices".
His Majesty and attendees also discussed the security situation and regional developments, as well as the challenges facing Jordan and the region in the coming year.
Fayez said that Jordan, under the leadership of His Majesty, enjoys security and stability, and praised the performance of the Jordan Armed Forces-Arab Army and other security departments.
The senate president said that the challenges facing the Kingdom are not internal, but are rather brought about by the conditions of the turbulent neighbourhood.
He also underlined the need for solidarity among all citizens to overcome the challenges they face, pointing out the important role the private sector can play in this regard.
Echoing the King's remarks, Tarawneh highlighted the importance of coordination between the government and the Lower House, especially regarding economic issues.
Members of both chambers' permanent offices expressed their faith in Jordan's ability to overcome adversity, and expressed awareness of the need to work as a team to realise goals swhich will increase levels of development for all citizens.
Related Articles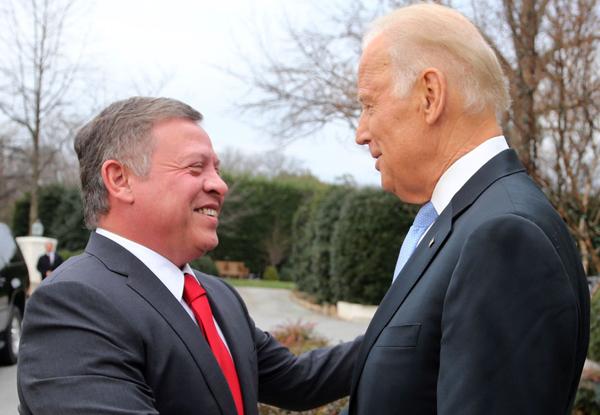 Jan 13,2016
AMMAN — His Majesty King Abdullah on Tuesday held a series of meetings in Washington with US administration officials and key lawmakers, wit
Oct 29,2014
His Majesty King Abdullah on Wednesday received US Republican Senator James Mountain Inhofe and discussed regional developments and efforts to overcome challenges.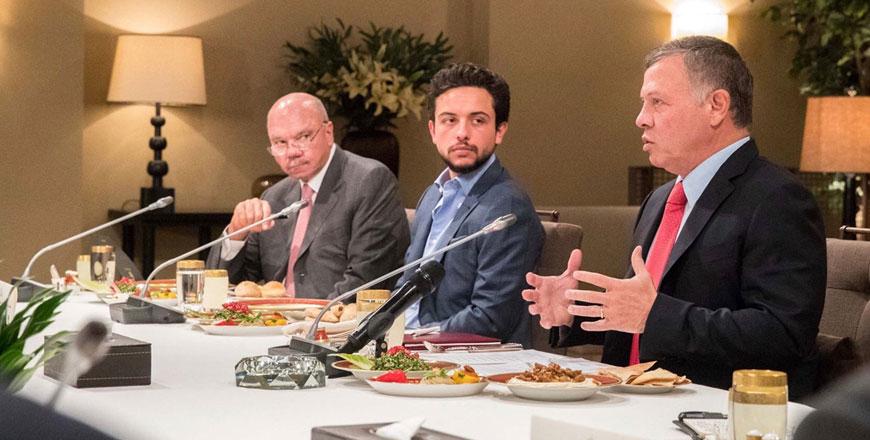 Oct 05,2017
AMMAN — His Majesty King Abdullah on Wednesday stressed that any national financial reform efforts should be home-grown and should work to p
Newsletter
Get top stories and blog posts emailed to you each day.