You are here
King talks life, family and Jordan in interview with university students
His Majesty reflects on critical moments facing Jordan during his reign, relationship between Crown Prince and King Hussein
By JT - Jul 18,2019 - Last updated at Jul 18,2019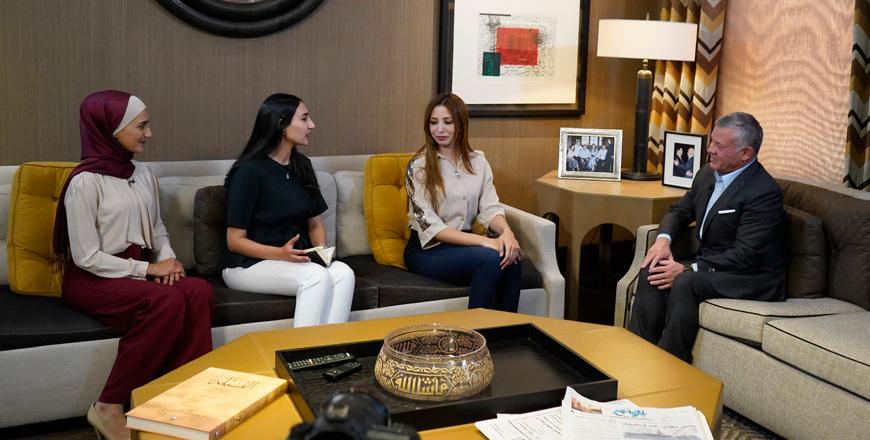 His Majesty King Abdullah is interviewed by university students Arwa Sarhan, Luma Hammouri and Aseel Rawashdeh recently (Photo courtesy of Royal Court)
AMMAN — In an interview released on Wednesday with students from the University of Jordan and Yarmouk University, His Majesty King Abdullah talked about his family and personal life.
The interview, released on the two universities' social media pages, covered King Abdullah's reflections on key events and moments in his life, a Royal Court statement said.
His Majesty talked about what makes him angry or happy, and spoke about his favourite and least favourite character traits (read full translation of interview transcript).
The King reflected on the past 20 years since his assumption of constitutional powers, and described his feelings when his eldest son, HRH Crown Prince Hussein, was born.
His Majesty also spoke about his hobbies, his love for sports and why he could not compete in the Olympics.
"Jordanians are my brothers and sisters, sons and daughters and my extended family. Jordan is the most beautiful place in the world," the King said in the interview.
The encounter also saw His Majesty recalling memories from his time in military service, and describing the beauty of his country and his eager efforts to promote it globally.
King Abdullah reflected on the special relationship between his father, the late King Hussein, and the Crown Prince, paralleling it to the one connecting King Hussein and his grandfather, the late King Abdullah.
The King also delved into the most critical events that faced the Kingdom during his reign, namely the murder of Jordanian pilot Muath Kasasbeh and the 2005 Amman bombings, expressing his deep anger and sorrow at the time.
His Majesty spoke of his great admiration for the Jordanian youth and the "energy and stamina" they give him, and talked about the grave responsibility of leading the country and how his life changed since he assumed that duty.
"Jordanians are highly regarded abroad, and Jordan's reputation goes far beyond its size and borders because Jordanians are honest wherever they are," the King said.
The interview was conducted by students Arwa Sarhan and Luma Hammouri, from Yarmouk University's Faculty of Mass Communication, and Aseel Rawashdeh, from the University of Jordan's Faculty of Law.
Newsletter
Get top stories and blog posts emailed to you each day.