You are here
King, Queen check on school for visually disabled
Academy was built upon His Majesty's orders, offers up-to-date education
By Rana Husseini - May 23,2018 - Last updated at May 23,2018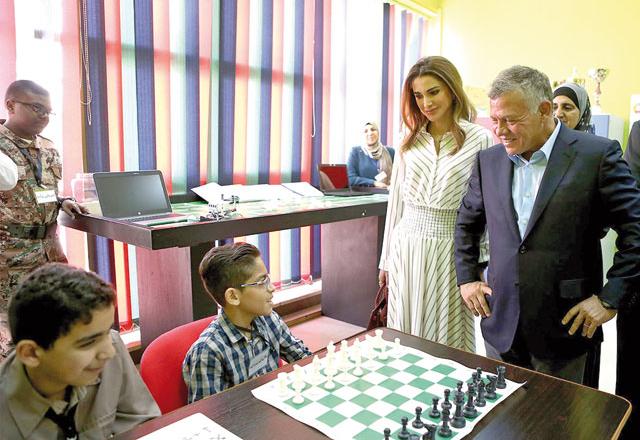 Their Majesties King Abdullah and Queen Rania tour an academy for visually impaired students in Amman on Tuesday (Photo courtesy of Royal Court )
AMMAN — Their Majesties King Abdullah and Queen Rania on Tuesday paid a visit to the Royal Academy for the Blind (RAB) and spent time listening to the visually disabled students describing their creative and innovative work and projects.
The King and Queen toured the facility and chatted with the students about their work in the drawing class and the STEM (Science, Technology, Engineering and Math) Lab.
Their Majesties also spoke to the educators, some of whom are visually disabled, who highlighted the academy's programmes to build the capacity of the visually disabled students in order to integrate them in society.
Located in Tabarbour, a northeast Amman neighbourhood, RAB was established in 2011 upon King Abdullah's directives to replace the Abdullah Bin Maktoum School for the Blind, which was established in 1969 and was located in an inappropriate building.
The four-storey facility, which was established as a joint effort involving the Royal Court, the Ministry of Education and the Higher Council for the Affairs of Persons with Disabilities, is built on a 7,000-square-metre plot of land.
The academy provides occupational therapy to students and is a venue for training sessions through the latest technology and methods of teaching the visually disabled.
Earlier in the day, Their Majesties toured the facility and were met by officials, including Minister of Education Omar Razzaz, to check on the operation and activities of the academy.
RAB Director Abdul Munem Dweiri said the academy is one of the Ministry of Education's schools that provides the "latest and best academic and rehabilitation services needed by male and female students with visual disabilities".
Around 150 people work at RAB, including 101 faculty members and 55 teachers with visual disabilities, according to Dweiri.
The academy has 34 classrooms with a total capacity of 300 students and a boarding dorm that could accommodate 32 students, he added.
Arts instructor Suhail Baqaeen, who has been working as a volunteer at RAB for the past seven years, said he trained over 70 students and many took part in seven art exhibitions.
"I am happy to be part of this important and human project by teaching the visually disabled students several ways of expressing themselves through colours," Baqaeen told The Jordan Times.
Imaginary and innovation is what "we strive for because these students have the will to learn and make something out of themselves and our role is to help them do that", Baqaeen added.
Newsletter
Get top stories and blog posts emailed to you each day.