You are here
King puts off Parliament ordinary session to November 3
By JT - Sep 29,2014 - Last updated at Sep 29,2014
AMMAN — His Majesty King Abdullah on Monday issued a Royal Decree, proroguing Parliament's extraordinary session and putting off the ordinary session to November 3, instead of the beginning of October.
The extraordinary session ends on September 30.
According to Article 78 of the Constitution: "The King shall summon the National Assembly to an ordinary session on the first day of October of each year or, if that day is an official holiday, on the first day following the official holiday, provided that the King may, by Royal Decree published in the Official Gazette, postpone for a period not exceeding two months the meeting of the Assembly to a date to be fixed by the Royal Decree."
Parliament was convened on August 17 for an extraordinary session to endorse several bills, including chiefly draft amendments of the Constitution.
On August 25, the Lower House endorsed the draft amendments to the Constitution by an overwhelming majority, giving the sole power to the King to appoint and dismiss army and intelligence chiefs.
The changes also expanded the powers of the Independent Elections Commission and restricted the mandate of the military to defence affairs. The Senate on August 30 passed the amendments as referred from the Lower House.
Also listed on the extraordinary session were the draft independence of the judiciary law, political parties law, the public/private sectors partnership law, income tax law, renewable energy and energy rationalising law, civil retirement law, investment law, juveniles and the civil status temporary laws.
Parliament passed all the laws listed on the agenda except for the income tax and investment draft laws.
Related Articles
Sep 21,2015
AMMAN — A Royal Decree was issued on Monday proroguing the current extraordinary session of the Lower House as of the same day.A second Roya
Aug 13,2017
AMMAN — A Royal Decree was issued on Saturday, proroguing the extraordinary session of the Parliament as of Sunday, August 13.The Parliament
Jun 11,2017
AMMAN — A Royal decree was issued, convening the Parliament for an extraordinary session meeting as of Tuesday, July 4, to endorse various d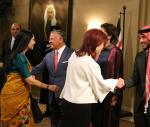 Newsletter
Get top stories and blog posts emailed to you each day.