You are here
King meets World Economic Forum founder
By JT - Sep 21,2018 - Last updated at Sep 23,2018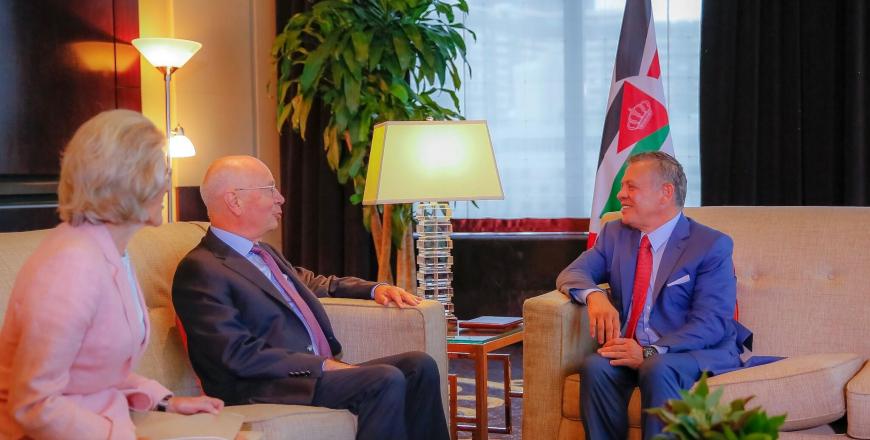 His Majesty King Abdullah meets with World Economic Forum Founder and Executive Chairman Professor Klaus Schwab and Mrs. Schwab (Photo courtesy of the Royal Court)
NEW YORK — His Majesty King Abdullah on Friday met with World Economic Forum (WEF) Founder and Executive Chairman Professor Klaus Schwab and Mrs Schwab on the sidelines of His Majesty's participation in the 73rd Session of the United Nations General Assembly.
Discussions covered Jordan's ties and partnership with the WEF. The Kingdom is scheduled to host the WEF on the Middle East and North Africa in April 2019 at the Dead Sea, marking the 10th time since 2003, accoridng to a Royal Court statement.
Hundreds of political, business, and civil society leaders from over 50 countries are expected to attend the meeting.
Director of the Office of His Majesty Manar Dabbas and Adviser to His Majesty for Economic Affairs Mohamad Al Ississ attended the meeting.
Jordan hosted the WEF on the Middle East and North Africa most recently in 2017. Next year's WEF meeting will be the 10th in Jordan and 17th meeting in the region.
Newsletter
Get top stories and blog posts emailed to you each day.