You are here
King meets Jordanian media delegation ahead of prize ceremony
His Majesty to receive Templeton Prize for interfaith initiatives in Washington today
By JT - Nov 13,2018 - Last updated at Nov 13,2018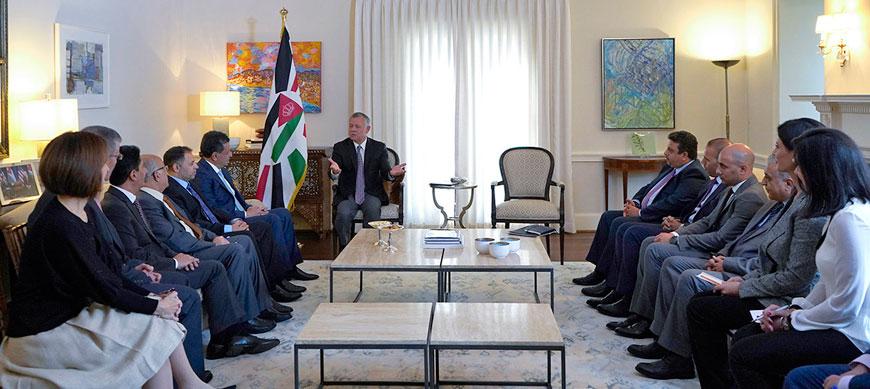 His Majesty King Abdullah meets the Jordanian media delegation invited to attend the Templeton Prize ceremony in Washington, DC, on Monday (Photo courtesy of Royal Court)
AMMAN — His Majesty King Abdullah met on Monday with the Jordanian media delegation invited to attend the Templeton Prize ceremony to celebrate His Majesty's intra- and interfaith initiatives in Washington, DC, on Tuesday.
At the meeting, King Abdullah expressed his condolences to the families of the victims of the recent flashfloods that hit several areas around the Kingdom, a Royal Court statement said.
His Majesty reaffirmed his pride in and appreciation for civil defence, public security, armed forces and gendarmerie personnel who worked day and night to rescue people.
The King also thanked the civilians who helped state agencies in the rescue operations, noting that these efforts are a source of pride and affirm the true mettle of Jordanians, the statement said.
The meeting covered the Templeton Prize, which His Majesty will receive in recognition of his efforts to promote interfaith harmony, safeguard Islamic and Christian holy sites in Jerusalem and protect religious freedoms.
The King said the prize reflects how much the world appreciates Jordan's role, expressing pride that Jordan is a model of moderation, harmony and coexistence.
This is the image of Jordan worldwide, His Majesty affirmed, noting that it recognises Jordanian initiatives such as the Amman Message, A Common Word and the World Interfaith Harmony Week.
Discussions also covered a number of domestic issues, as well as regional developments, according to the statement.
Adviser to His Majesty and Director of the Office of His Majesty Manar Dabbas and Jordan's Ambassador in Washington, DC, Dina Kawar attended the meeting.
Newsletter
Get top stories and blog posts emailed to you each day.