You are here
King to CNN: Jordan ready to deal with any push on Hashemite Custodianship red lines
By JT - Dec 29,2022 - Last updated at Dec 28,2022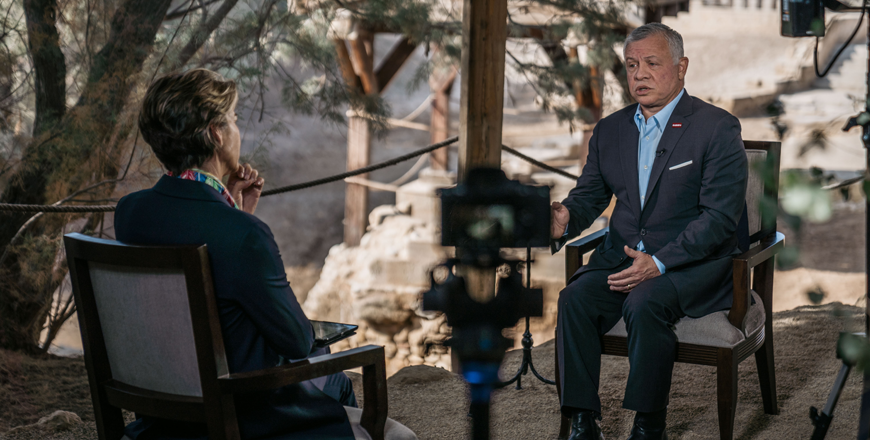 His Majesty King Abdullah speaks to CNN's Becky Anderson during an interview at the Baptism Site of Jesus Christ in Jordan (Photo courtesy of Royal Court)
King warns against extremists' attempts to use Jerusalem to create conflict, violence
His Majesty reiterates importance of Baptism Site for Jordan from historical, religious perspective
King highlights importance of protecting Christian presence in Middle East
'We have to be concerned about a next Intifada'
If the Palestinian-Israeli conflict is not resolved, the Arab street will always be naturally sympathetic to the Palestinian cause
AMMAN — CNN on Wednesday broadcast an interview with His Majesty King Abdullah, conducted two weeks ago by anchor Becky Anderson, as part of a report that sheds light on the Baptism Site of Jesus Christ in the Kingdom and Jordan's efforts to develop the land adjacent to the site.
In the interview, filmed at the Baptism Site on the East Bank of the Jordan River, King Abdullah highlighted the efforts to safeguard Islamic and Christian holy sites in Jerusalem, the importance of protecting the Christian presence in the Middle East, and the status of Jerusalem as a city that brings people together, as well as Jordan's keenness to protect the Baptism Site and develop the adjacent land, according to a Royal Court statement.
His Majesty reiterated the importance of the Baptism Site for Jordan from a historical and religious perspective, as it is one of the three holiest sites in Christianity.
The King noted that the site tells the story of one of the first refugees to Jordan, being Jesus Christ himself, may peace and blessings be upon him, and this story continues with the contemporary waves of refugees. "I think it started here and it is a story that tells the story of Jordan throughout the ages," His Majesty said.
"This is a UNESCO Heritage Site and needs to be protected; we want to make sure that this is preserved for centuries to come," the King added in the interview.
Elaborating further, His Majesty said that what will be established in the adjacent land will support the authentic Baptism Site, with a museum on the history of Christianity, botanical gardens that grow the ancient flowers and herbs of the region, and training centres for various churches.
"I think one of the things that people misunderstand about this place is how inclusive it is. Almost 15 per cent of the visitors that come here are Muslim, because we revere Jesus Christ as the Messiah, and the holy Mary is the holiest and most important of all women in our history," the King added.
"This is an opportunity to break down those barriers and to show how proud we are of not only our historical Christian heritage here in Jordan, but the relationship between Christianity and Islam," His Majesty said.
Responding to a question on His Majesty's reference to Jerusalem in his speech at the United Nations General Assembly earlier this year, the King reaffirmed that Jerusalem must be a city that brings people together, warning against extremists' attempts to use the city to create conflict and violence.
"We are the custodians of both the Christian and Muslim holy sites in Jerusalem; my concern is that there are challenges that the churches are facing from policies on the ground. If we continue to use Jerusalem as a soapbox for politics, things can get out of control really, really quickly," His Majesty warned.
Responding to a question on the challenges facing the Christian presence in the region, the King said Jordan and Jerusalem have the oldest Arab Christian community in the world. "They have been here for 2,000 years. Over the past several years, we are seeing that they have become under pressure as a community, so the numbers are dropping, which is, I think, an alarm bell to all of us."
On whether there are fears of the eruption of a third Intifada, His Majesty said: "We have to be concerned about a next intifada. And if that happens, that is a complete breakdown of law and order, and one that neither the Israelis nor the Palestinians will benefit from".
The King noted that there is concern from everyone in the region, including those in Israel, on this issue and the importance of working to make sure it does not happen.
Responding to a question on Benjamin Netanyahu's return to power, which Jordanian commentators have described as Jordan's worst nightmare, His Majesty said the Israeli people have the right to "pick whoever they want to lead them", adding, "We are all prepared to move on, and we will work with anybody and everybody, as long as we can bring people together."
Answering a question on whether the status quo and his role as the Custodian of holy sites in Jerusalem are threatened due to predictions relevant to the new Israeli government, His Majesty said: "You are always going to get those people that will try and push that, and that is a concern. But I don't think those individuals are just under the Jordanian microscope, they are under an international microscope."
"If people want to get into a conflict with us, we are quite prepared. I always like to believe, that let us look at the glass half full," the King continued, adding, "We have certain red lines. And if people want to push those red lines then we will deal with that. But I have to believe that there is a lot of people in Israel that are concerned as much as we are."
On Jordan's role in promoting regional stability, His Majesty said Jordan has been a refuge to early Christians and to Jesus Christ himself, may peace and blessings be upon him.
"This is, I think, something that we have always inherited. My great-great grandfather Sharif Hussein gave sanctuary to Armenian Christians that were looking for safety and security," the King noted.
His Majesty highlighted that Jordan provided refuge to Iraqi and Syrian Christians over the past few years, who have fled the atrocities of Daesh in Syria and Iraq.
"If we don't have any Christians in the region, I think that is a disaster for all of us. They are part of our past, they are part of our present, and they must be part of our future," the King noted.
Responding to a question on his hopes and aspirations for the region in 2023, His Majesty said people want to move on with their lives and feel an opportunity, stressing the need to focus on economic interdependency instead of politics to solve all problems.
"These are issues that we have to deal with, Israelis, Palestinians, Jordanians. And I believe regional integration, that is going to be, I think, the secret of us being able to break down barriers," the King said.
His Majesty added: "Whatever people think about integration of Israel into the region, which is extremely important, that's not going to happen unless there is a future for the Palestinians."
The King alluded in his answer to Arabs raising the Palestinian flag while cheering for the Moroccan team in the FIFA World Cup, noting that if the Palestinian-Israeli conflict is not resolved, the Arab street will always be naturally sympathetic to the Palestinian cause, "so we need to build as opposed to destroy".
Newsletter
Get top stories and blog posts emailed to you each day.