You are here
Khasawneh government wins vote of confidence after marathon debate
88 out of 127 MPs present support new premier, team
By JT - Jan 13,2021 - Last updated at Jan 13,2021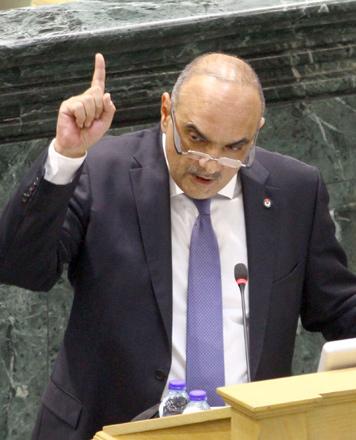 Prime Minister Bisher Al Khasawneh
AMMAN — The government of Prime Minister Bisher Al Khasawneh on Wednesday won the Lower House's vote of confidence with a majority of 88 MPs of the 127 MPs present.
The voting process took place immediately after Khasawneh delivered his response to the deputies' remarks that were made on the government's policy statement.
A total of 38 lawmakers voted "nay", while one abstained and three were absent.
Khasawneh's government won the House's confidence following eight sessions held over four days during which 121 MPs from the 130-strong chamber presented their notes on the policy statement.
Addressing MPs ahead of vote, Khasawneh said that schools will be reopened as of the second semester according to a well-examined plan that safeguards public health.
The premier also noted that his government will impose no new taxes in 2012 and will not borrow to cover its current spending.
Khasawneh said that the government will implement an investment plan to improve the agriculture sector and will extend incentives to farmers as per efforts to boost food security.
Pledging cooperation and partnership with the Lower House, Khasawneh said that the government will take MPs' notes on its policy statement into consideration and will maintain constant coordination with the chamber.
The prime minister said that the government will work on enhancing the rule of law and the independence of the judiciary.
On measures to improve the economy, Khasawneh said that the government will work on implementing capital projects and attracting investments to the country and opening new markets for the Jordanian products, pledging "genuine" partnership with the private sector in this regard.
Khasawneh reemphasized the centrality of the Palestinian question, reiterating that the two-state solution is the sole way to achieve a fair and comprehensive regional peace and resolve the Palestinian-Israeli conflict.
Newsletter
Get top stories and blog posts emailed to you each day.