You are here
JPF, Bridgewater State University team up to enhance media performance
By JT - Oct 21,2019 - Last updated at Oct 21,2019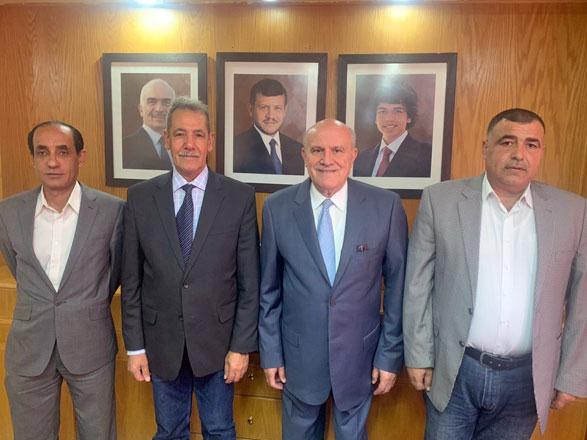 Jordan Press Foundation Chairman of the Board Ayman Majali, Academic Director of Global Programmes at BSU Jabbar Obaidi, Director of Al Rai Centre for Research Khaled Shaqran and head of the studies and research unit at the centre, Hadi Shobaki during a meeting on Monday (JT photo)
AMMAN — Talks on Monday were held between representatives of the Jordan Press Foundation (JPF) and Bridgewater State University (BSU) addressing technical, educational and academic cooperation between the two institutions.
Jordan Press Foundation (JPF) Chairman of the Board Ayman Majali met with Academic Director of Global Programmes at BSU Jabbar Obaidi in the presence of Director of Al Rai Centre for Research Khaled Shaqran and head of the studies and research unit at the centre, Hadi Shobaki.
The meeting comes as part of a series of meetings carried out in implementation of a memorandum of understanding (MoU) signed between the JPF, BSU and Al Rai's Centre for Research, which has recently been renewed, to develop a joint training programme between Al Rai and the university.
The MoU has resulted in the creation of a training programme that provides training opportunities to journalists from Al Rai and The Jordan Times, 15 of whom are set to participate in a series of workshops next year.
Talks also went over means of developing the joint programme between Al Rai and BSU and incorporating a variety of training subjects, which are required to boost competitiveness within the labour market.
Majali voiced pride in the cooperation with BSU, saying: "It stems from our responsibility to develop performance and enhance joint action with BSU, a pioneering university with an array of advanced expertise in a number of fields in including media".
He added that cooperation with BSU is part of Al Rai's efforts to develop media content in addressing national issues and social problems "professionally and in-depth", while incorporating digital media to reach a broader audience.
For his part, Obaidi said: "Discussions between Al Rai and BSU embody the importance of cooperation between press institutions and universities."
Newsletter
Get top stories and blog posts emailed to you each day.