You are here
Jordanians question 'record' drop in local meat prices
Around 2,500 Jordanians travel to Syria daily to buy foodstuff including meat due to low prices
By Ahmed Bani Mustafa - Nov 05,2018 - Last updated at Nov 05,2018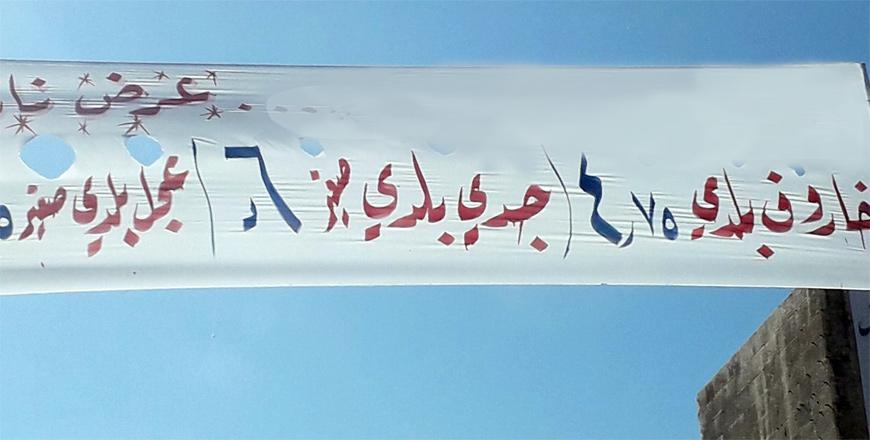 A banner advertises low-priced meat in Jerash on Sunday (Photo by Ahmed Bani Mustafa)
JERASH — Low demand, competition and buying from Syria are some of the reasons behind the record drop in red meat prices stakeholders said on Sunday.
Lamb, goat and beef prices in Jordan have dropped by 50 per cent during the past few months.
Consumers said that such a price is a "grace" regardless of the reasons, as they are now able to buy adequate amounts of fresh red meat for a "reasonable" price.
Meanwhile, livestock farmers said that the market witnessed low demand just after the Adha holiday (a holiday during which Muslims sacrifice livestock).
Imran Muath, a livestock farmer, expressed doubt about the quality and source of the meat being sold at butcheries across the Kingdom.
Agriculture Ministry Spokesperson Lawrence Majali told The Jordan Times that demand has plummeted due to the low purchasing power of citizens.
"Also, the closure of borders with neighbouring countries and the low or no exports to traditional markets such as Saudi Arabia, Palestine and Qatar have contributed to the drop," said Majali.
Before the "Gulf crisis", Qatar used to import 17 per cent of Jordanian livestock exports, according to Majali.
In addition, some citizens are used to buying imported meat from shopping malls, instead of fresh local meat from butcheries, the spokesperson said.
He added that the ministry has supported farmers with JD2 million in zero-interest loans, reduced fodder prices and controlled imports.
Ghassan, the owner of a butcher shop, said the prices have dropped because of the "ruthless" competition among butchers to the extent that some are selling at less than cost.
Jerash Mayor Ali Qoqazeh said that around 2,500 Jordanians go to Syria everyday and buy meat for themselves or their relatives at a much cheaper price.
"This has led to a decrease in the demand for local livestock, as many Jordanians buy their goods from drivers who travel to Syria on a daily basis and bring three to four lambs or goats each day," Qoqazeh added.
"The Syrians are selling their goods for low prices because they have suffered slow business for eight years and that is why the prices are very low now. However, the situation will not continue forever as the crisis is approaching an end," according to the mayor.
"It takes less than one hour to drive to Daraa in Syria where one lamb costs around JD20, while in Jordan it is worth JD100," he added.
Newsletter
Get top stories and blog posts emailed to you each day.