You are here
Jordan takes part in SXSW 2023 in US
By JT - Mar 19,2023 - Last updated at Mar 19,2023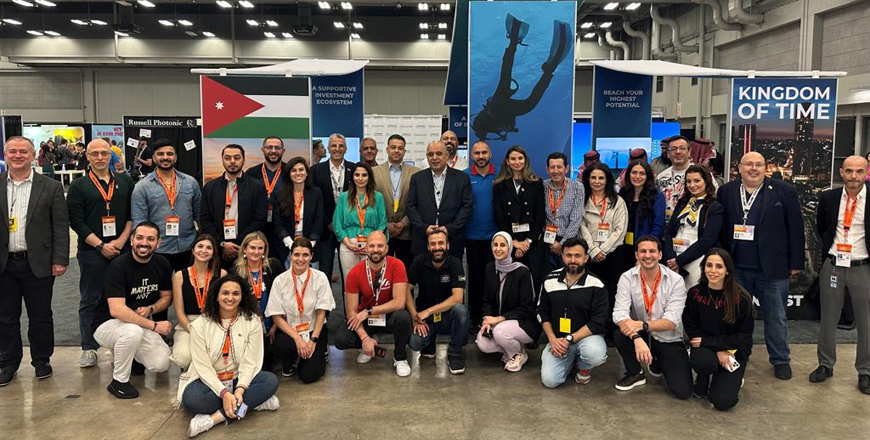 Minister of Digital Economy and Entrepreneurship Ahmad Hanandeh poses for a photo with members of the Jordanian delegation taking part in SXSW 2023 in Austin, Texas (Photo courtesy of organisers)
AMMAN — Jordan has made history at SXSW 2023, as the first-ever Arab nation to officially participate in the global event in Austin, Texas.
The Jordanian delegation was led by the Ministry of Digital Economy and Entrepreneurship, and included the attendance and participation of a number of Jordanian leaders, innovators, and entrepreneurs, according to a statement from the organisers.
During the SXSW Creative Industries Expo, held from March 12 to 15, the ministry and its Jordan Source programme hosted a booth at the Austin Convention Centre, where they promoted the Kingdom as a destination for tourism and investment with a focus on attracting ICT investments and outsourcing.
SXSW is one of the largest annual tech and culture events in the US, and attracted more than 300,000 attendees.
In addition to the Jordan booth at the Creative Industries Expo, the Jordanian delegation also hosted two speaking sessions during the conference: the first, led by Jordan Source's Tamer Zumot and Dana Darwish, was titled, "Jordanian Talent: The 8th Wonder of the World," and put the spotlight on Jordan's wealth of tech talents.
The second session, titled, "Is Jordan the Middle East's Silicon Valley?," welcomed three Jordanian tech leaders — Fouad Jeryes of Maqsam, Nour Khrais of Maysalward, and Tina Sweis of Troytopia — to explain how Jordan's entrepreneurial ecosystem encourages creativity and innovation at all levels.
Commenting on the occasion, Minister of Digital Economy and Entrepreneurship Ahmad Hanandeh said: "After the success of the Kingdom's participation in previous global tech events like Web Summit and the MENA ICT Forum, we are elated to be able to build upon our ever-growing international reputation as a prime destination for ICT investments and outsourcing. We look forward to further elevating our presence among investors and businesses in the United States, and we are grateful that our participation in SXSW 2023 was extremely fruitful."
Following their participation in SXSW, the ministry and its Jordan Source programme is building on their presence in the US with an ICT Roadshow that is taking them to Silicon Valley, in California, and Washington, DC. During this roadshow, the ministry will be meeting with high-profile companies and investors, as well as members of the Jordanian diaspora who are supporting the ministry's mission of attracting investments, according to the statement.
Newsletter
Get top stories and blog posts emailed to you each day.