You are here
Jordan takes part in 5th UfM Ministerial on Employment and Labour
By JT - May 20,2022 - Last updated at May 20,2022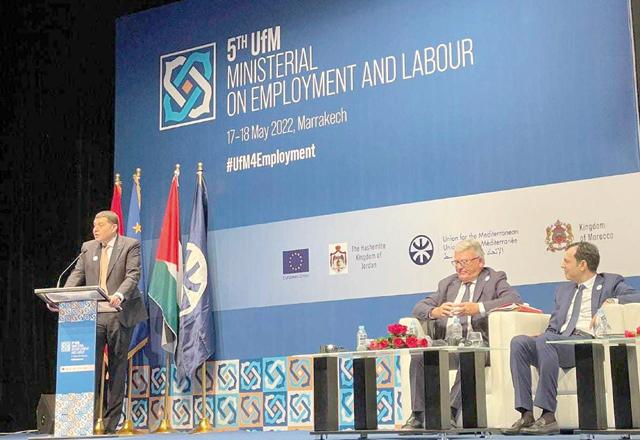 Labour Minister Nayef Stetieh takes part in the fifth Union for the Mediterranean Ministerial on Employment and Labour in Marrakech, Morocco (Petra photo)
AMMAN — Jordan and the EU co-chaired the fifth Union for the Mediterranean (UfM) Ministerial on Employment and Labour, held on May 17 and 18 in Marrakech, Morocco, under the theme "employment and employability of the most vulnerable, especially among youth and women".
Minister of Labour Nayef Stetieh, the Kingdom's representative, said that the two-day ministerial meeting focused on the employment of youth and women and exchanging best practices and lessons learned after the pandemic.
He added that the UfM member states discussed the most pressing labour market challenges in the Euro-Mediterranean region.
Stetieh emphasised that job creation still "represents a major challenge not only for Jordan, but also for the southern Mediterranean countries".
He called for "multiplying our efforts of coordination and cooperation between both shores of the Mediterranean in order to reduce unemployment rates".
He also emphasised the creation of more vocational and technical training programmes to benefit youth of both genders, as well as providing a safe and adequate working environment across different sectors and economic activities.
On the sidelines of the two-day event, Stetieh held separate meetings with Arab and European labour ministers, and representatives of international organisations, highlighting Jordan's need to improve its vocational and technical training system, as well as the necessity of expanding job opportunities for Jordanian youth and promoting women's integration in the labour market.
up
25 users have voted, including you.
Newsletter
Get top stories and blog posts emailed to you each day.