You are here
Jordan reaffirms support for peace efforts in Syria
Safadi attends Germany meeting on Syrian crisis, holds talks with peers, key officials
By JT - Feb 19,2017 - Last updated at Feb 19,2017
Children and women are seen in Aleppo, Syria, on Saturday (Anadolu Agency photo)
AMMAN — Foreign Minister Ayman Safadi has reaffirmed Jordan's commitment to finding a solution to the Syrian crisis in talks in Germany, while urging the international community to support the Kingdom as a host of refugees.
Speaking at the Munich Security Conference on Saturday, the minister said that supporting Jordan, which hosts 1.3 million Syrian nationals, to cover the health, education and development needs of refugees is an investment in a safer future for the region, Europe and the world.
While in Munich, he also met with the UN Secretary General António Guterres, Arab League Secretary General Ahmed Aboul Gheit and the UN Special Envoy to Syria Staffan de Mistura, the Jordan News Agency, Petra, reported.
Safadi also held meetings with his French, Spanish and Norwegian counterparts Jean-Marc Ayrault, Alfonso María Dastis and Borge Brende.
During the meetings, Safadi focused on the Palestinian issue as the Middle East's core cause, reaffirming the pressing need for resolving it in a manner that would restore the legitimate rights of the Palestinian people, particularly regarding the establishment of their own independent state on their national soil.
He also discussed the Syrian crisis and the need to find a political solution, based on the Geneva conferences, starting with a sustained ceasefire.
At his meeting with Ayrault and Dastis, Safadi discussed means to enhance bilateral relations, the burdens shouldered by Jordan as a result of hosting Syrian refugees as well as the need to restart peace talks between Palestinians and Israelis.
Safadi and Aboul Gheit discussed preparations for the Arab summit, to be hosted by Amman next month, which will be attended by Guterres.
On Friday, Safadi spoke at a meeting on the sidelines of the G-20 in Bonn, which brought together representatives of countries with "similar views on Syria".
He noted that Jordan participated in the Astana talks as an observer, stressing that Amman supports all efforts to achieve a comprehensive ceasefire in Syria, especially in the southern region.
The G-20, called by Germany and France, was also attended by US Secretary of State Rex Tillerson.
Safadi also expressed hope that the Astana talks will constitute a first step towards re-launching peace talks in line with the Geneva communiqué, Petra reported on Friday.
The minister stressed the importance of ending the Syrian crisis through a solution that is accepted by all Syrians.
Safadi reiterated Jordan's support to all efforts to reach a political solution to end the suffering of the Syrian people, calling for the resumption of political negotiations under the UN's leadership and with the participation of all stakeholders with the aim of reaching a solution based on international laws and resolutions.
Also in Bonn on Friday, Safadi met his British counterpart Boris Johnson to discuss bilateral relations and ways to increase cooperation to deal with common challenges and regional issues, Petra added.
Both officials stressed the need for cooperation and coordination in the war against terrorism and extremism in order to achieve stability in the region.
Separately, Safadi met with Turkey's Foreign Minister Mevlut Cavusoglu and discussed regional developments, especially regarding the Syrian crisis, in addition to bilateral ties.
They highlighted the mutual benefit to both countries of developing bilateral cooperation and continuing coordination and consultation.
Both ministers discussed boosting economic cooperation, especially through investment, tourism and trade.
Efforts to reach a political solution to the Syrian crisis and anti-terror cooperation were also discussed, according to Petra.
Related Articles
Apr 27,2017
AMMAN — Foreign Minister Ayman Safadi on Thursday discussed bilateral relations with French Minister of Foreign Affairs and International De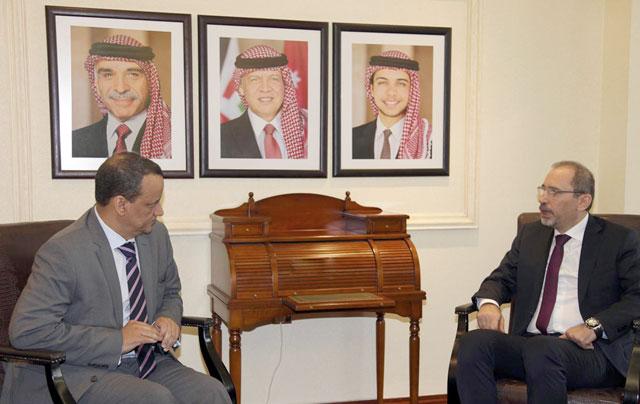 Jan 17,2017
AMMAN — Foreign Minister Ayman Safadi spoke with his foreign and Arab counterparts on Monday and Tuesday. Meeting with some in person,
Mar 19,2017
AMMAN — His Majesty King Abdullah on Sunday emphasised the importance of coordinating and unifying stances of Arab states to address challen
Newsletter
Get top stories and blog posts emailed to you each day.