You are here
Jordan to organise Al Faris Int'l Horseback Archery Championship III
By JT - Mar 05,2018 - Last updated at Mar 05,2018
Al Faris III competitions encompass three horseback archery styles: the European style, the Asian style and the Oriental style (Photo courtesy of Al Faris International Horseback Archery Championship)
AMMAN — Jordan is scheduled to host the Al Faris International Horseback Archery Championship III, under Royal Patronage, in Amman on April 20 and 21, a statement by the organisers said.
Al Faris III competitions encompass three horseback archery styles: the European style, known as the Hungarian style; the Asian style, known as the Korean style; and the Oriental style, known as Al Ghara — Arabic for "raid" — which is a newly developed Jordanian style that combines archery with tent-pegging.
Jordan is organising and hosting Al Faris III in an effort to preserve and revive the intangible cultural heritage of horseback archery, which has deep roots in Arab, Islamic, European, Asian and Turkish cultures, the statement said.
The championship, which will see the participation of 46 contestants from 24 countries, also promotes interest in equestrianism and the values, arts and sports it encompasses, according to the organising committee of Al Faris III, whose honorary chairman is HRH Prince Hashim, the chief Royal councillor.
Jordan hosted and organised the first two Al-Faris championships in 2011 and 2012.
The Public Security Directorate's mounted police team will represent Jordan for the third time in this championship, which will be held at Al Rayah Parade Grounds in the Royal Hashemite Court.
Contestants will compete to win the first three ranks per style and Al Faris III will also honour the top three outstanding competitors in all styles combined, according to the statement.
According to the Jordan Tourism Board, one of the championship's sponsors, Al Faris III will cement Jordan's position as a global destination for cultural and sports tourism.
The championship's activities are open to the public, and those interested in attending should submit a guest registration form available on Al-Faris III website (www.alfaris.jo) by March 20 to ([email protected]) to receive confirmation electronically, the statement concluded.
Related Articles
Apr 21,2018
AMMAN — His Majesty King Abdullah on Saturday attended concluding ceremony of Al Faris International Horseback Archery Championship III, whi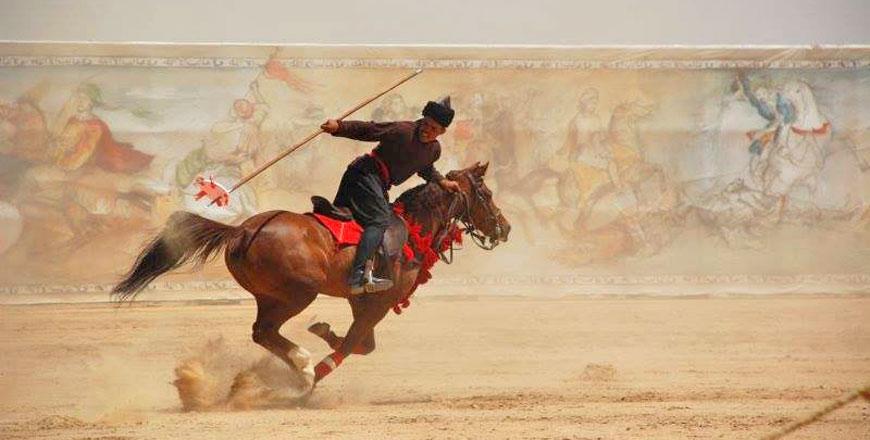 Apr 16,2018
AMMAN — Jordan is scheduled to host Al Faris International Horseback Archery Championship III on Friday and Saturday, with the participation
Apr 18,2015
Several deals clinched in Jordan, Morocco, Egypt, Palestine, United Arab Emirates and Kuwait are expected to generate JD20 million in income for Al-Faris National Company for Investment and Export.
Newsletter
Get top stories and blog posts emailed to you each day.