You are here
'JD149.272m to be allocated for Tafileh development projects'
By JT - Aug 30,2015 - Last updated at Aug 30,2015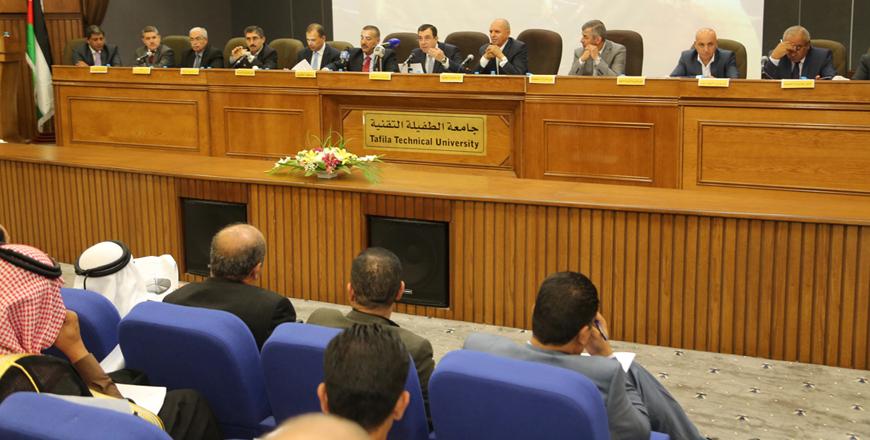 Planning and International Cooperation Minister Imad Fakhoury meets with representatives of various sectors in Tafileh on Sunday (Petra photo)
AMMAN — Public expenditure on the Tafileh Governorate development programme between 2016 and 2018 is expected to stand at around JD149.272 million, Planning and International Cooperation Minister Imad Fakhoury said Sunday.
At a meeting with lawmakers, officials and local community representatives in the governorate, some 180km southwest of Amman, Fakhoury said the estimated cost of development projects for 2016 is JD42.672 million, while it stands at JD49.976 million for 2017, and JD56.624 million for 2018, according to a ministry statement.
Fakhoury urged the specialised local team in Tafileh to select priority projects ready for implementation to receive proper funding.
He also said that the development programme identifies problems and challenges facing Tafileh like poverty and unemployment, as it is the governorate that suffers the most from these problems.
The unemployment rate in Tafileh stood at 15.4 per cent in comparison with 11.9 per cent nationwide, while the poverty rate stood at 17.2 per cent in comparison with 14.4 per cent nationwide, the minister added, according to the statement.
With Tafileh among the governorates affected by the Syrian refugee influx, Fakhoury said around $263,468 in funds have been approved in the Jordan Response Plan for projects in the governorate, which has a population of 93,400 according to the Department of Statistics' 2014 estimates.
He stressed that the government will request more international support in this regard.
Fakhoury said the ministry will work in coordination with various loan funds and micro-financing institutions to finance the available investment opportunities and coordinate with the Jordan Investment Commission to promote them and attract investors.
Tafileh Governor Hakem Mahamid, a representative of the interior ministers, and secretaries general of several ministries also attended the meeting.
Related Articles
Mar 17,2018
AMMAN — Planning and International Cooperation Minister Imad Fakhoury on Saturday discussed with Tafileh Governorate Council the development
Aug 08,2016
AMMAN — Minister of Planning and International Cooperation Imad Fakhoury on Monday chaired a meeting in Tafileh to raise awareness of soft l
Nov 16,2014
The UNCHR and International Relief and Development Inc. on Sunday launched income-generating and service projects in Tafileh Governorate.
Newsletter
Get top stories and blog posts emailed to you each day.