You are here
JAF logistical hub project launched at eastern border
By Bahaa Al Deen Al Nawas - Jul 19,2019 - Last updated at Jul 19,2019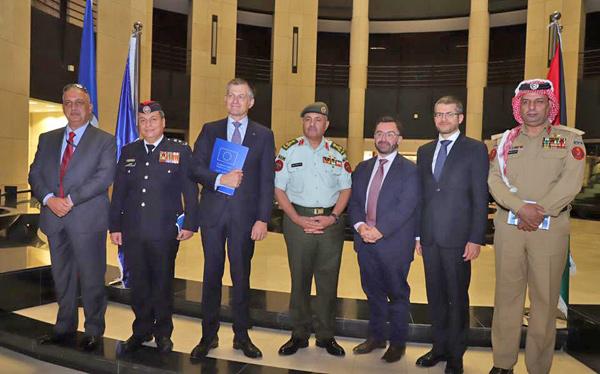 A European Union delegation to Jordan poses for a photo with members of the Jordan Armed Forces-Arab Army (Photo courtesy of EU)
AMMAN — The EU delegation to Jordan and Expertise France on Thursday launched a project to build a logistical hub for the Jordan Armed Forces-Arab Army (JAF) in Mafraq Governorate.
The ceremony, held at the King Hussein Business Park, was attended by representatives of the JAF, the Public Security Department, the Gendarmerie Department and the Civil Defence Department and other national authorities.
The six-million-euro project aims at improving coordination of civil-military operations in the eastern part of Jordan through a multi-agency logistical hub in Ruwaished, Mafraq, in addition to providing capacity-building training.
The logistical hub will provide "critical logistical support" to the JAF, which will "enhance the ability of the Jordanian authorities to quickly react to any humanitarian crisis or security threat at the eastern borders," French Ambassador to Jordan David Bertolotti said at the ceremony.
The hub's strategic location in Ruwaished is going to improve national authorities' capability to respond to any threats at the northern and eastern borders, such as terrorist infiltration and drug and weapon smuggling.
The project will also contribute to maintaining the resumption of regular cross-border traffic with Iraq.
The EU-funded project is expected to be finished in 18 months, Expertise France's director of stability, safety and security, Jérôme Heitz, said.
EU Ambassador to Jordan Andrea Matteo Fontana added: "This hub will complement the ongoing EU projects to reinforce the Karameh border-crossing point and to establish effective and integrated border management in Jordan for the safe passage of goods and people."
On behalf of the JAF's chief of defence, Director of the JAF's Planning and Organisation Department Brig. Gen. Abdullah Hunaiti said that the "project is a step in the right direction and it will help to achieve the balance between security and humanitarian assistance and will allow the Jordanian army to respond to humanitarian and security challenges at the northeastern border with Syria in a timely manner".
Expertise France, a public agency for international technical assistance, is implementing the project.
Newsletter
Get top stories and blog posts emailed to you each day.