You are here
Haqiq initiative board members elected across Kingdom
Bodies to compete for voluntary work prizes by Crown Prince Foundation
By JT - Nov 19,2017 - Last updated at Nov 19,2017
Haqiq is a five-step national leadership programme for ninth and tenth graders (Photo courtesy of Crown Prince Foundation)
AMMAN — Haqiq, an initiative by Crown Prince Foundation (CPF), on Saturday carried out the first elections for the initiative's boards of directors in the governorates.
The voting took place in seven areas — Irbid, Mafraq, Jerash, Amman, Balqa, Karak, Maan — while the board presidents and members won uncontested in five other governorates; namely, Ajloun, Zarqa, Madaba, Tafileh and Aqaba, the Jordan News Agency, Petra,reported.
The 70 winners, aged between 16 and 20 years old, are all graduates of Haqiq training programme and their mandate is to organise voluntary youth activities.
The boards are expected to arrange a voluntary activity and a project each month in line with a quarterly plan whose main guidelines are set by CPF. In total, the youth bodies will organise 288 activities and functions across the Kingdom.
Each board will select the activities that are compatible with their quarterly goal and towards the year-end, the 12 boards will compete for prizes dedicated for the best voluntary project within the set goal for the year in question.
Candidates speaking to Petra on Saturday praised the move and the plan, saying that the elected boards have been created to embody the vision of HRH Crown Prince Hussein and a model of partnership among national institutions, mainly the Ministry of Education, to serve the country's national interests.
According to its literature, Haqiq is a five-step national leadership programme for ninth and tenth graders.
It was established to "realise our youth's commitment to becoming successful leaders in their local communities". After selecting students from public schools in every governorate, in cooperation with the Ministry of Education, our participants benefit from a programme model built on training workshops, field visits and camps that call on youth to engage with their peers and communities throughout Jordan.
"As future agents of change, Haqiq's graduates embody the programme's values, including integrity, resilience, learning from failure, commitment, hard work, focus, responsibility, open-mindedness and self-confidence."
Related Articles
Dec 10,2016
AMMAN — The Crown Prince Foundation (CPF) on Friday concluded the activities of the "Haqiq with UNICEF" programme, held by UNICEF-linked Ale
Aug 06,2017
AMMAN — Amman resident Sadeq Nidal believes he has a "second family" and a "second home" in each governorate across the country, thanks to t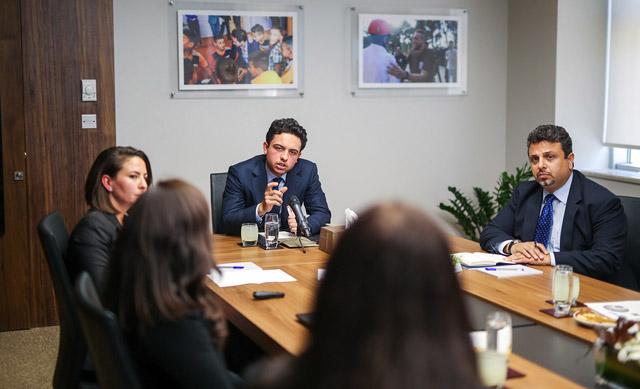 Aug 16,2017
AMMAN — HRH Crown Prince Hussein on Wednesday chaired a meeting of the Crown Prince Foundation (CPF), during which he was briefed on the str
Newsletter
Get top stories and blog posts emailed to you each day.