You are here
Gov't to set price ceiling for potatoes
By Hana Namrouqa - Dec 07,2017 - Last updated at Dec 07,2017
The Agriculture Ministry warned retail traders in fruits and vegetables against selling potatoes for high prices (Photo by Osama Aqarbeh)
AMMAN — As the price of potatoes in the local market has increased by almost two folds this month, the government is looking into measures to impose a price ceiling for the staple vegetable, according to a government official.
"The Ministry of Agriculture and the Ministry of Industry and Trade are now in talks over setting a price ceiling for potatoes, whose prices are increasing in the local market for no justified reason," a government official, who preferred to remain anonymous, said on Wednesday.
The Agriculture Ministry has warned retail traders in fruits and vegetables earlier this week against selling potatoes for high prices, noting that, if prices do not drop, price ceilings will be imposed.
"The step seeks to protect consumers by controlling prices. The local market is receiving 400 tonnes of potatoes every day; an amount that well exceeds the local market›s daily needs," the official told The Jordan Times.
The official said that the price ceiling to be applied "if prices don't drop in two days" will protect the rights of both consumers and traders.
The owner of a fruits and vegetables store in Arjan in west Amman, selling potatoes for JD1.35 per kilogramme, acknowledged that prices of potatoes have increased.
The grocer, who identified himself as Abu Tareq, claimed that potatoes available for lower prices, such as JD0.80 per kilogramme, "are rotten from the inside".
Roua Hamad, a banker and mother of two, complained about the quality and price of potatoes in the local market.
"Everyone is saying that the quality of potatoes in the local market is not the same as before; they either have holes inside or have black spots in the middle. Now, we are buying bad quality potatoes for insanely higher prices," Hamad said.
Related Articles
Jun 29,2014
Vegetable prices in the Amman Central Market on Sunday witnessed a huge drop that marked the lowest starting cost during Ramadan in the past 40 years.
Jun 02,2015
AMMAN — The Ministry of Agriculture on Tuesday destroyed 40 tonnes of potatoes imported from Palestine for making potato chips, according to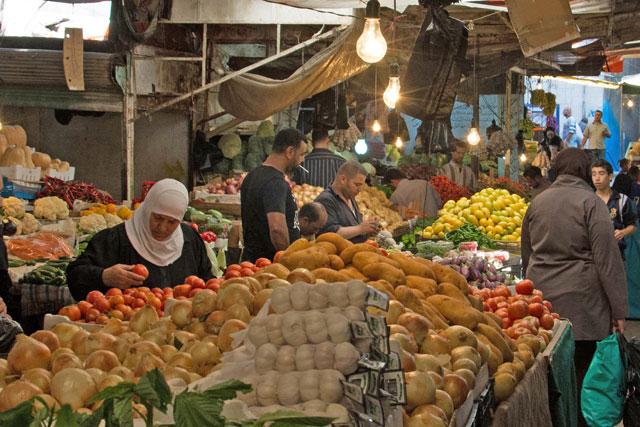 Jan 10,2017
AMMAN — As the Ministry of Agriculture on Tuesday opened the door to importing potatoes, the farmers union criticised the decision, claiming
Newsletter
Get top stories and blog posts emailed to you each day.