You are here
Global volunteers offer medical, dental services to refugees across Kingdom
By Sarah Al Arshani - Nov 07,2019 - Last updated at Nov 07,2019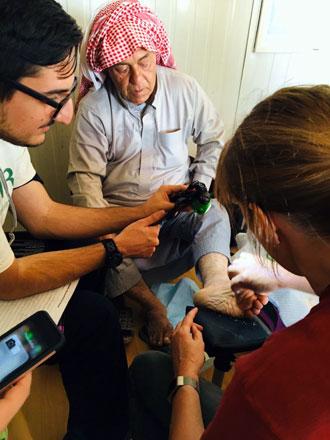 Atlantic Humanitarian Relief volunteers are travelling around the Kingdom to provide medical and dental care to refugees (Photo Courtesy of AHR, Inc)
AMMAN — Over 200 volunteers with Atlantic Humanitarian Relief (AHR) from across the globe spent the past week providing medical, surgical and dental relief to refugees across the Kingdom.
The mission, titled "Shukran Nashama Al Urdun" (Thank you Nashama Jordan) began on Saturday and will end on Thursday, with volunteers travelling to various cities including Amman, Jerash and Mafraq as well as small towns to provide relief to those in need, AHR Co-founder and Mission Director Humam Akbik told The Jordan Times on Tuesday.
AHR is a Boston-based and Jordan-registered non-profit founded in 2012 by Akbik, who is a Harvard-trained anesthesiologist and pain management specialist, and Beth Tammaro, a registered nurse at the VA Boston Healthcare System, according to the organisation's website.
The group has completed over 17 relief missions in the Kingdom.
Akbik anticipates that several thousand refugees will receive various services, including up to 5,000 medical evaluations, more than 120 surgeries and approximately 4,000 dental services by the end of the week.
"There is a crisis. Everybody has to do something," Akbik told The Jordan Times in a phone interview on Tuesday.
Akbik said that the organisation has a keen focus not just on medical care, but on humanitarian care as well.
"You have to treat the whole person, and oftentimes that includes their whole family," Tammaro told The Jordan Times on Wednesday. "The effects of war are traumatic."
Akbik noted that the mission puts special emphasis on helping children. This year, they brought along a music teacher to teach and entertain kids.
He mentioned that the organisation has a large number of Jordanian volunteers — primarily medical, dental and business students — and also partners with local hospitals, doctors and facilities.
In the past, he said, services for refugees were discontinued once the mission ended. However, the organisation "realised that patients need continuous care in order to heal", and began to partner with local volunteer medical personnel to ensure continued care for patients even after the end of the mission.
Akbik said that the title of the mission seeks to honour Jordanian efforts to aid in relief efforts for Syrian refugees. He noted the commitment of Jordanians to "share what they have" and volunteer their time and effort.
Newsletter
Get top stories and blog posts emailed to you each day.