You are here
Ghor Al Safi women teach people natural dying techniques
By Andrea Celeste - Oct 29,2017 - Last updated at Oct 29,2017
The Ghor El Safi Women's Association held a workshop on how to dye fabric using natural tints derived from various plants on Saturday (Photo by Andrea Celeste)
Amman — The Ghor Al Safi Women's Association, a group of women from the Jordan Valley producing dyed textiles in collaboration with Tiraz Centre and UNESCO, on Saturday held a workshop where they taught participants how to dye fabric using natural tints derived from various plants.
The two-hour workshop, which was held at Tiraz Centre: Widad Kawar home for Arab dress in Amman, saw the attendance of women, men and children of all ages who were provided with bags and scarves, which they dyed under the guidance of the association's members.
Created in 1999, the Ghor Al Safi Women's Association produces original handicrafts named "Safi Crafts", using natural dyes.
Their products, which are and hand-painted, stenciled, dyed and embroiled, include scarves, T-shirts, dresses, bags and home items such as covers and tableware.
"It has been a long time that I have been waiting to learn more about how they use the natural plants to create the dyes so, when I found out about this workshop, I came all the way from Jerusalem this morning. It took me four hours but I needed to see it," said Stephanie Saldaña, an attendee of the event.
"This indigo dye was considered extremely precious in the past. So for us to be able to create this again is so important because it really is the recognition of our culture," she told The Jordan Times.
The dying process involves the use of organic dyes, which are extracted from plants and boiled in water.
The participants had the opportunity to created their own bags and scarfs using different types of designs and patterns, which were handmade.
Using natural and organic products is "a way to raise awareness about the importance of organic material to the public", Nayfeh Al Nawasara, Head of The Ghor Al Safi Women's Association said, adding that it helps in making people aware "of the benefits of organic products, which are good for the health".
One of the colours used in Safi Crafts is the blue coming from the indigo plant, which was historically cultivated in Jordan and is now being grown in the association's local farm with the support of UNESCO.
The workshop acquainted the participants with the Jordanian culture, offering them the opportunity to learn about the Kingdom's heritage. "If a person is aware of his or her culture and develops a good feeling about it, he or she will have a better life, and not have the bitterness widespread among young generations around the world," said Widad Kawar, Founder of the Tiraz Centre: Widad Kawar Home for Arab Dress.
By the end of the workshop, all the participants brought back home the material they created, enriched with a "unique experience".
"We are very happy to have an event like this in a renowned place in Amman and, as Widad said, it is very important to have this kind of partnerships in cultural activities," said Nuria Roca Ruiz, project officer at UNESCO.
"We are very happy because a lot of people attended and they were very interested. They were having fun which is the most important. For us, it has been a very positive experience," Ruiz added.
Ghor Al Safi Women´s Association for Social Development is based in a rural village called Ghor Al Safi in the south of Jordan on the shores of the Dead Sea, and involves 15 women, according to the UNESCO website.
Related Articles
Apr 16,2015
Three experts from Oman concluded a five-day visit to Jordan on Thursday during which they shared their expertise on the ancient tradition of indigo harvesting, processing and dyeing with members of Ghor El Safi Women's Association, according to a UNESCO statement.
Mar 09,2017
AMMAN — Indigo and pomegranate, alongside other substances cultivated in Jordan, were the focus of a workshop in Amman on Wednesday that gav
Nov 26,2016
AMMAN — A project that utilises the colourful soil and natural plants of Jordan to produce hand-dyed textiles in the Jordan Valley is testam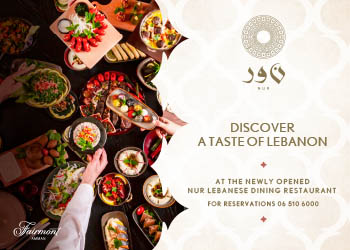 Newsletter
Get top stories and blog posts emailed to you each day.