You are here
Gendarmerie Forces, Canada launch capacity-building project
By JT - Aug 08,2018 - Last updated at Aug 09,2018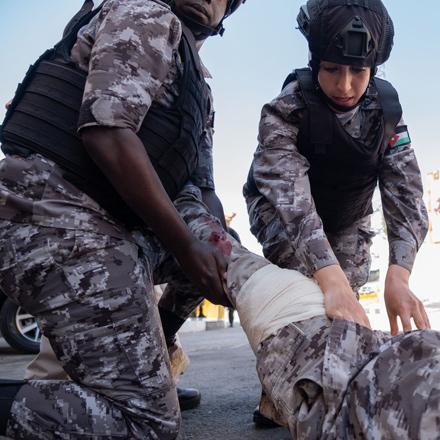 Gendarmerie Department and the government of Canada launched on Tuesday a capacity-building project aimed at enhancing the skills and tools of the Gendarmerie Forces (Photo courtesy of Canadian embassy)
AMMAN — The Gendarmerie Forces and the Government of Canada on Tuesday launched a capacity building project aimed at enhancing the skills and tools of the Gendarmerie Forces to respond to critical incidents and save lives.
Under this project, Canada will be providing tactical medical training and equipment to first responders of critical incidents, with the aim of enhancing the Gendarmerie's capacity to treat and keep alive victims of critical incidents until they are able to receive further medical treatment, said a statement from the Canadian embassy in Amman.
Female Gendarmerie officers will also be taking on additional tactical firearms and search training, the statement said, noting that this training will better enable them to participate on the frontlines of the response to critical incidents, where women are involved as victims or as perpetrators.
"Gender equality has been considered as one of Canada's priorities across a range of activities in Jordan, in the region and around the world, the statement said, citing Canada's adoption of the Feminist International Assistance Policy as "it firmly believes that empowering women is the most effective approach to build a more peaceful, more inclusive and more prosperous world".
Canada began its cooperation with the Jordanian Gendarmerie in 2013, by providing equipment and facilities to help manage the influx of Syrian refugees. In 2016, it committed additional support for a project to counter improvised explosive devices, according to the statement.
Canadian Ambassador to Jordan Peter MacDougall was quoted in the statement during a meeting with Gendarmerie Department Director Maj. Gen. Hussein Hawatmeh saying: "Canada's cooperation with the Gendarmerie on this critical incident response initiative is in line with Canada's strategy to work with countries like Jordan who have experienced the most impact from the ongoing crises in Syria and Iraq. Under this regional strategy, Canada has committed more than $2 billion over three years towards security, stabilisation, humanitarian and development assistance."
For his part Hawatmeh, stated that the Gendarmerie Forces are committed to upholding a security role that respects human rights and dignity, stressing the Gendarmerie Forces' keeness continue developing their personnel through specialised training courses and international partnerships that promote best practice in security and law enforcement.
"Canada's tactical medical and female search training project is highly promising and will enhance the capacity of the Gendarmerie's female cadre to serve their country in a manner that is professional and appropriate for them as Jordanian women," Hawatmeh said.
Newsletter
Get top stories and blog posts emailed to you each day.