You are here
Gaza zoo animals arrive to start new life in Jordan
By AFP - Aug 25,2016 - Last updated at Aug 25,2016
Members of Al Mawa for Nature and Wildlife Foundation move a tortoise which was taken out of Gaza by Four Paws International, after it arrived in Amman, on Wednesday (Reuters photo by Muhammad Hamed)
AMMAN — Animals evacuated this week from a zoo dubbed the "world's worst" in the Palestinian Gaza Strip have arrived at an animal shelter in Jordan, an AFP photographer said on Thursday.
Two turtles, two eagles, two porcupines, a pelican, an emu and a deer arrived late Wednesday near Amman after travelling from Gaza via Israel, said Amir Khalil, a vet from the charity organising the transfer.
Animal welfare charity Four Paws on Wednesday said it evacuated 15 animals — including Gaza's last tiger Laziz — out of the Khan Younis zoo, as they headed for a new life outside the Israeli-blockaded territory.
The tiger was put on a plane and flown to South Africa where it arrived on Thursday, while five monkeys remained in Israel, Khalil said.
The animals that arrived to Jordan were placed in quarantine at the New Hope Centre, a shelter near Amman, "while waiting to be transferred somewhere bigger", the vet said.
The animals would now have access to food and necessary treatment, Khalil said.
Dozens of animals had died at the Khan Younis zoo, some of starvation, and badly stuffed bodies of dead crocodiles, lions and others were left in the open, surrounded by piles of bones.
Four Paws says on its website that Khan Younis had "been known as the 'worst zoo in the world' since it became public last year that the zoo was crudely mummifying the animals that died in their care and displaying them".
There were more than 100 animals housed at the zoo in the years after its 2007 opening, but they were decimated by repeated wars and shortages of customers.
The Israeli blockade of the enclave and Egypt's closed border have suffocated its economy, making it increasingly hard for Gazans to find money for leisure.
Related Articles
Aug 23,2016
KHAN YOUNIS, Gaza — A team of foreign veterinarians began taking measures on Tuesday to evacuate the last surviving animals from a zoo in th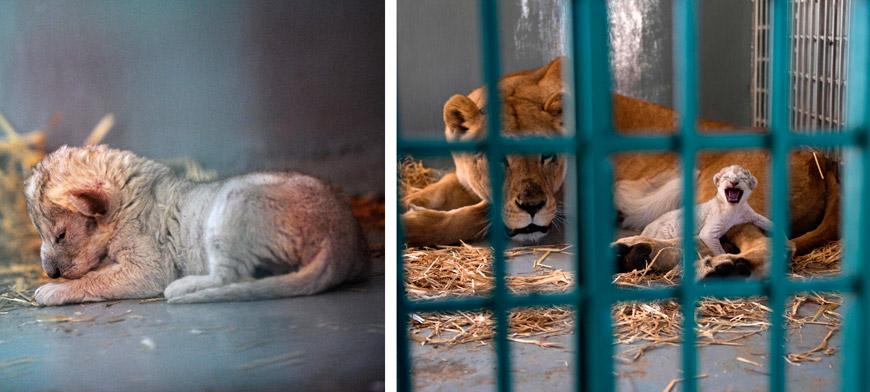 Aug 14,2017
ISTANBUL — A charity has successfully transferred 13 animals to a new home in Jordan via Turkey from a neglected Syrian zoo, including a lio
Oct 01,2014
Three lions have arrived in Jordan from the Gaza Strip to receive medical attention after the Israeli aggression on the coastal enclave destroyed their zoo and left them in difficult conditions, according to conservationists.
Newsletter
Get top stories and blog posts emailed to you each day.