You are here
Freezing temperatures expected until Monday; farmers warned of frost
By Batool Ghaith - Jan 16,2022 - Last updated at Jan 16,2022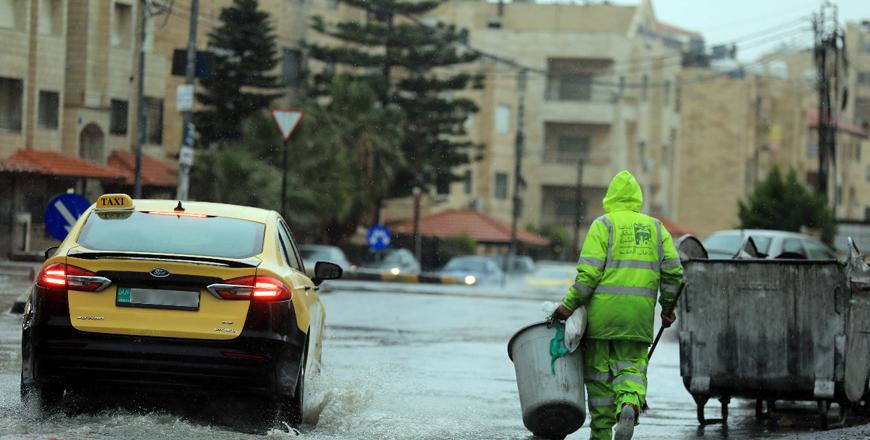 A Greater Amman Municipality worker is seen on duty amid rain in the capital on Sunday (Photo by Sahem Rababah)
AMMAN — The Jordan Meteorological Department (JMD) warns of frost and freezing temperatures on Sunday night until Monday.
According to the JMD, snow is expected to accumulate in the higher elevations in the south. In the late night hours, frost and freezing conditions are expected in many areas, with west and northwesterly winds gradually shifting in the evening and night hours to the northeast.
In its report, the JMD warned of low horizontal visibility due to the fog formation and low clouds.
The report showed that on Monday, there will be a drop in temperatures, which will be lower than average for this time of year by about 5-7 degrees Celsius.
Head of the Jordan Valley Farmers Union Adnan Khaddam said that so far, there have been no losses in any farms.
"We are hoping that crops will witness no harm. I encourage farmers to water their crops well to avoid any damage or losses from frost and freezing if it occurs," Khaddam told The Jordan Times on Sunday.
Osama Zyoud, a farmer in Mafraq, said that they have witnessed heavy rainfall, but without any frost or freezing so far.
"Freezing is more damaging than frost, as it leads to not only losses in crops, but also technical losses in the irrigation tools, as the water freezes inside the pipes which lead to their bursting," he told The Jordan Times over the phone.
Zyoud feels positive as temperatures are not expected to drop below -4 Celsius, which will not cause damage to any crops.
"Farmers should cut the water from the pipes by 3am to avoid technical losses," he added.
Newsletter
Get top stories and blog posts emailed to you each day.