You are here
Fishermen urged not to hunt sharks in Aqaba
By Hana Namrouqa - May 13,2015 - Last updated at May 13,2015
AMMAN — Although sharks can be found in the Gulf of Aqaba, they are not an indigenous species and thus are not supposed to be hunted, Aqaba Marine Park (AMP) Director Abdullah Abu Awali said on Wednesday.
A local fisherman in Aqaba, 330km south of Amman, reportedly caught an over three-metre-long shark this week and displayed it on the beach.
"Sharks can be found in Aqaba, but in very low numbers. When sighted, they are usually visiting, as they swim alongside ships or are tracking prey as they come from the open Red Sea," Abu Awali told The Jordan Times.
Since hunting of certain types of sharks that are listed under the International Union for the Conservation of Nature's Red List is globally banned, the marine conservationist said Aqaba fishermen should abstain from killing visiting sharks.
Abu Awali noted that despite the limited fishing activities in the Gulf of Aqaba, an oversight entity is required to monitor fishermen and their abidance by regulations to protect the Gulf of Aqaba's inhabitant fish species.
"A number of sharks have been caught over the past years in Aqaba, but this has always been overlooked because sharks are not inhabitants of the Gulf and people are relieved when they know that a shark has been caught."
Abu Awali underscored that no shark attacks have been reported in the port city recently.
"I believe the last shark attack in Aqaba was in the 1970s."
Related Articles
May 24,2017
AMMAN — The Aqaba Marine Park (AMP) is scheduled to join Jordan's network of nature reserves this year, becoming the country's first marine
Jun 23,2017
AMMAN — The Royal Marine Conservation Society of Jordan (JREDS) is carrying out a study on fish stock in the Gulf of Aqaba to evaluate and d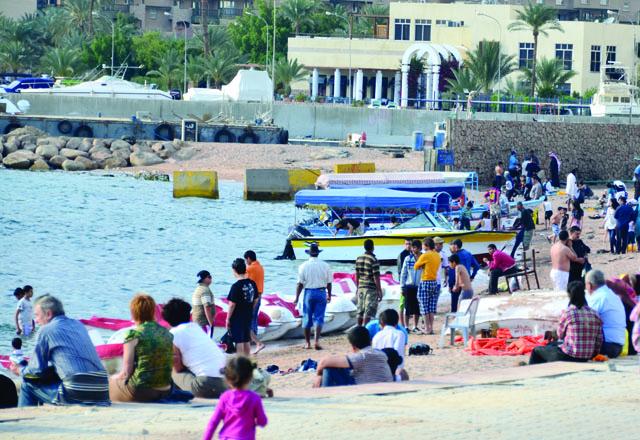 Sep 04,2014
One to two square kilometres of Aqaba's public beaches are lost every year to investment projects, according to marine conservationists.
Newsletter
Get top stories and blog posts emailed to you each day.