You are here
Fifth cohort of English Access Programme graduates
77 students from Karak, Tafileh complete programme
By JT - Oct 01,2023 - Last updated at Oct 01,2023
US Ambassador Yael Lempert poses for a group photo with the graduates of the English Access Programme, a language learning initiative, during a ceremony on Saturday (Petra photo)
AMMAN — Under the patronage of HRH Princess Basma Bint Talal, a graduation ceremony for the fifth cohort of students who completed the English Access Programme, a language learning initiative, was held on Saturday.
Funded by the Regional English Language Office at the US embassy and implemented by the Jordanian Hashemite Fund for Human Development (JOHUD) through Princess Basma Development Centres, the programme offered 77 students, between the ages 13 and 15, 400 hours of training over the past two years, from just the governorates of Karak and Tafileh.
The programme targets academically talented students in remote areas with the aim of improving their English language skills.
In a recorded message, Princess Basma congratulated the graduates on completing the programme's training hours and emphasised their commitment to participating in the Access programme. She said that attending their classes and participating in its activities highlights their dedication to acquiring English skills for the future.
The princess noted the high level of achievement demonstrated by the students during the programme and their mastery of the English language. She said that this underscores the importance of the programme in opening up new horizons for them, and enabling them to learn about other languages and cultures.
She expressed her appreciation for the US embassy's support for the Access programme, which has benefited 517 students in the governorates of Tafileh, Karak, Mafraq, Ajloun and the Kafrein region since its inception in 2015.
The princess also praised the role of the teachers in supporting and educating the students. She acknowledged the role of the JOHUD team in the programme.
US Ambassador Yael Lempert said that the Access programme empowers Jordanian youth by developing their English language skills and preparing them for future work and study in a multicultural environment.
She noted that the programme equips students with the necessary tools to become more active members of society and effective participants in the business world as future leaders. She also noted that the programme has benefited more than 6,000 students overall.
The ceremony featured success stories of its students and a dialogue in English between students, teachers and parents. Ambassador Lempert presented the graduates with certificates.
Related Articles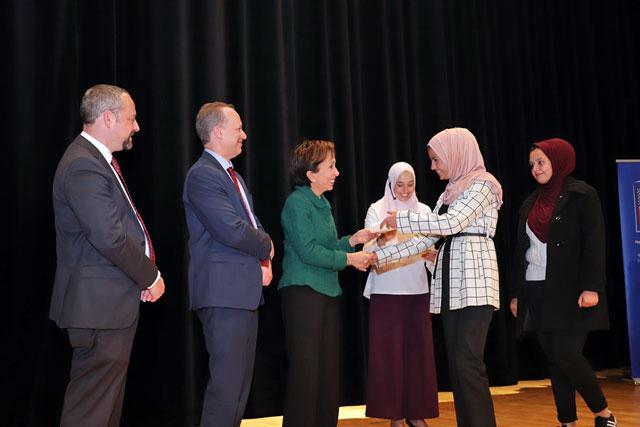 Nov 28,2018
AMMAN — HRH Princess Basma on Wednesday inaugurated the graduation ceremony of 140 students from the governorates of Ajloun, Tafileh and Maf
Nov 12,2019
AMMAN — HRH Princess Basma on Tuesday said that students should always believe in themselves and their capabilities in order to make positiv
Apr 08,2021
AMMAN — HRH Princess Basma on Wednesday attended a ceremony celebrating the graduation of the fourth batch of students enrolled in the Engli