You are here
Female politicians honoured for achievements
Minister praises women's contribution to social, cultural, economic, political life
By Camille Dupire - Mar 08,2018 - Last updated at Mar 08,2018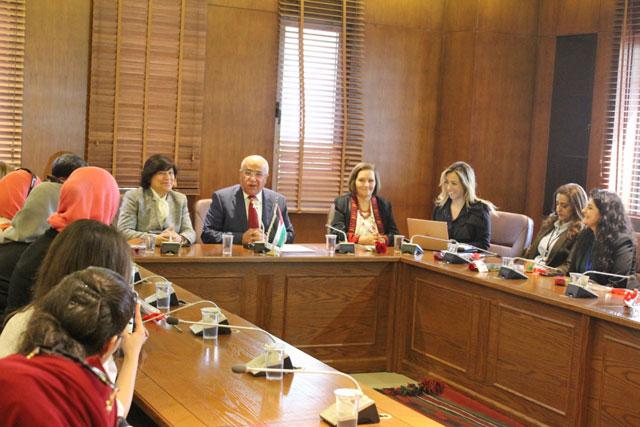 Minister of Political and Parliamentary Affairs Musa Maaytah sits with women leaders in celebration of International Women's Day at the ministry on Thursday (Photo courtesy of EU-JDID)
AMMAN — The Ministry of Political and Parliamentary Affairs (MoPPA) on Thursday celebrated the achievements of 70 women leaders, as part of the International Women's Day marked annually on March 8.
Under the patronage of Minister Musa Maaytah, and in the presence of MoPPA Secretary General and head of the political parties committee Bakr Al-Abbadi, female ministers, senators, MPs, secretaries general of political parties, MoPPA female staff, and female trainees of a political and civic actors training programme were honoured as "leading examples" in the Jordanian society.
Following a historical review of the women's movement in Jordan, the minister congratulated the attendees for their contribution to the social, cultural, economic and political life of the Kingdom.
"Our main objective today is to recognise the efforts of women leaders and women in decision making positions in Jordan," Maaytah said at the event, held at the MoPPA premises.
"Although we have long been celebrating the accomplishments of women in our society, it is the first time we are honouring women holding leadership position in political parties and encouraging young female partisan members to contribute to the political life in Jordan," he continued.
Held under the slogan "Because of all of you, the political society grows bigger", the event was organised by the MoPPA in cooperation with the "EU Support to Jordanian Democratic Institutions & Development [EU-JDID]" project.
EU-JDID, part of the EU "Enhanced Support to Democratic Governance in Jordan" programme, aims at supporting Jordanian efforts to consolidate democratic practices and promote political participation, with a special focus on parliamentary strengthening, electoral assistance, support to the political party system and support to civil society, according to its website.
During the ceremony, the honourees shared their motivation, achievements and the changes they inspired in their communities, in accordance with the vision formulated by Her Majesty Queen Rania saying "when a woman succeeds, she reaches out to those around her and pulls them up with her. If you empower a woman, you empower a whole society."
"Democracy is about inclusion, fair participation and representation. To achieve genuine gender equality, the problem of under-representation of women in political decision making must be addressed," a statement by EU-JDID said, adding "therefore, EU-JDID is committed to enhancing women and youth inclusion in the political process, and to foster a stronger democratic and tolerant political culture. The project aims to strengthen the capacities of women politicians and to raise awareness of political parties and the role they play with regards to women's political advancement".
Concluding the event, Maaytah handed out honoroury seals to the female secretaries general of political parties and their representatives, including Abla Abu Elbeh, former MP and secratry general of Hashd party.
Newsletter
Get top stories and blog posts emailed to you each day.