You are here
Evacuation of people in quarantine at Amman, Dead Sea hotels begins
By JT - Mar 30,2020 - Last updated at Mar 30,2020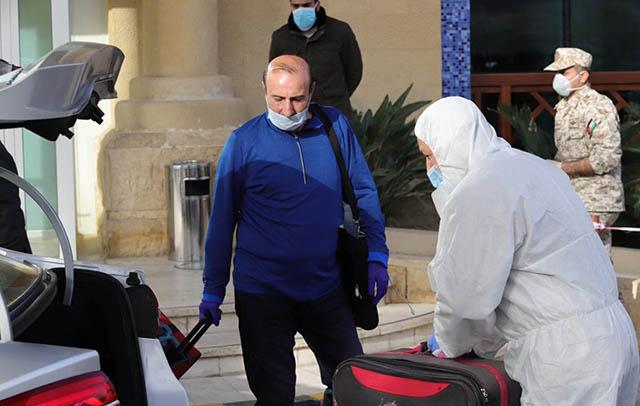 A total of 1,934 people were evacuated from hotels being used as designated quarantine sites on Monday as the first phase of a comprehensive plan to evacuate a total of 5,000 people from hotels in the Dead Sea and Amman (Petra photo)
AMMAN — Authorities on Monday morning discharged 1,934 people out of some 5,000 people who have been quarantined at Amman and Dead Sea hotels for the past 14 days.
According to the government's evacuation plan, the people in this initial group are being transported for free to their homes across the country by providers of ride-hailing services, the Jordan News Agency, Petra, reported.
Those released from quarantine have been asked to stay at their homes for an additional 14-day isolation.
Among those quarantined were Their Royal Highnesses Prince Hussein and Prince Muhammad, sons of HRH Prince Talal Bin Mohammed, Petra reported.
While the government provided free transportation to the released people who finished the 14-day period, related authorities trained the drivers in precautionary measures that must be followed to ensure their wellbeing.
According to a comprehensive two-phase evacuation plan set up by the COVID-19 Crisis Management Cell in coordination with the relevant authorities, the first phase of the plan, which started on Monday morning, included discharging all Jordanians quarantined in Amman and the Dead Sea area to be transported to their homes.
To curb the spread of COVID-19 in the Kingdom, the government had imposed a 14-day compulsory quarantine for all arrivals to the Kingdom through airports and border crossings. Hotels in the Dead Sea area, Amman and Aqaba were designated as quarantine locations.
A number of those quarantined in hotels have tested positive for the novel coronavirus and are receiving treatment in the Kingdom's hospitals.
The second phase, which is scheduled to start on Tuesday, includes the evacuation of all non-Jordanian nationals in coordination with their embassies and the Foreign Ministry, Petra added.
Tourism Minister Majd Shweikeh was also present during the evacuation and oversaw the release process, which "went smoothly" in coordination with the Jordan Armed Forces-Arab Army and the Ministry of Health, Petra said.
Aqaba authorities also discharged nine non-Jordanian nationals who were being quarantined at a hotel in Aqaba, Petra reported.
According to Director of Aqaba Health Affairs Ibrahim Ma'ayah, the released individuals, including seven Greek nationals and two German nationals, have tested negative for COVID-19.
He added that the majority of quarantined people at Aqaba hotels are truck drivers who arrived from Egypt.
Newsletter
Get top stories and blog posts emailed to you each day.