You are here
Educators urged to promote values of peace, coexistence
Queen says students should be made 'bridge builders'
By Laila Azzeh - Mar 25,2017 - Last updated at Mar 25,2017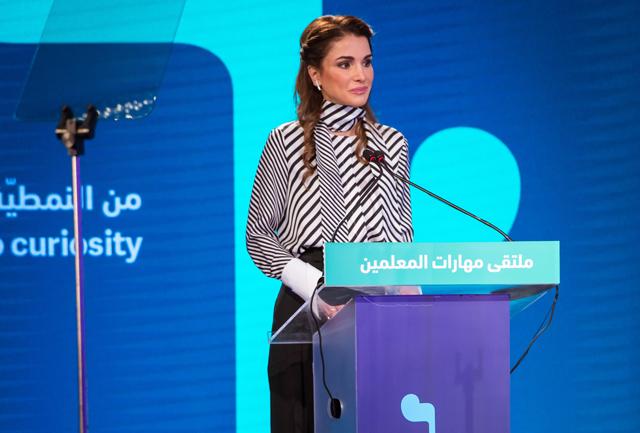 Her Majesty Queen Rania speaks at a teachers forum in Amman on Saturday (Photo courtesy of Royal Court)
AMMAN — Her Majesty Queen Rania encouraged educators to redefine their roles as leaders of hope at this year's Teacher Skills Forum, and called on them to instil the values of peace and coexistence in their students to face today's challenges.
In a speech delivered at the forum's opening session on Saturday, the Queen urged teachers to educate their pupils about "hard work and resilience", and teach them ways to build connecting bridges, rather than dividing barriers.
In her remarks, the Queen reflected on the state of the global economy, expressing concerns about its continued stagnation and the extent of polarisation the world is experiencing today.
"Just by looking around us, it becomes evident that even humanity fails humans sometimes," Queen Rania explained.
"Uncertainty, doubt and dejection have dominated conversations everywhere. We are in desperate need for hope and a brighter future, where prosperity can take hold," she added.
The third annual forum, currently held in Amman, is a conference hosted by the Queen Rania Teacher Academy in partnership with the International Baccalaureate programme.
This year's gathering focuses on restructuring the ways educators teach, in order to enrich students' learning experiences.
Her Majesty informed teachers that their role was highly prized, urging their continued support and work towards empowerment, and referring to them as the greatest investment during times of regional turmoil.
The Queen also projected her hopes for the Initial Teacher Education Diploma, which will see its first batch of well equipped and highly skilled educators graduate this year.
She pressed the audience to "imagine the immense impact these individuals will bear on each and every student" once they become proactive members of the country's education workforce.
Queen Rania shared her enduring vision for the empowerment of educators by supplying them with the necessary tools to "get their message across".
"The more equipped a teacher is with skills and tools, the more solid and innovative his teaching will be," she said.
Her Majesty compared the theme of this year's forum, "Restructuring How We Teach", to the work of well-organised engineers, who consolidate separate resources for the achievement of their construction goals.
"Visions without carefully devised plans are mere dreams, prone to dissipation in the face of tough challenges," she underscored.
Her Majesty referred to teachers as the "engineers of the future," imploring them to help students master the building of a great future.
"Teach them to dream, persevere, and thank God for His blessings. Teach them that their differences are worthy of celebration," she concluded.
Haif Bannayan, the CEO of the Queen Rania Teacher Academy, expressed his pride in the academy's efforts towards global integration by forming solid partnerships with various prominent international organisations.
"We believe that our greatest impact has been our emphasis on the importance of teacher training and preparation, and our dedication to promoting teaching as a long-term career rather than a regular job," he added.
Bannayan explained that although the academy has reached around 50,000 teachers in Jordan through its different programmes, its most significant milestone is the pre-service diploma programme enacted in partnership with the Ministry of Education, with technical support from the University College London (UCL)'s Institute of Education (IOE).
Her Majesty attended the forum's opening session along with other distinguished world education figures including the chief executive of the Education Development Trust, Steve Munby, and expert in residence of the Innovation Lab at Harvard University, Tony Wagner.
Wagner pointed to a shift in the current world order from a "knowledge economy", to an era of innovation, where "the world no longer cares about how much you know," but, rather, about "what you can do with what you know".
Director general of the International Baccalaureate programme, Siva Kumari, also attended the opening session. She discussed the power of teachers in classrooms, and the power of education in the creation of an evolved humanitarian citizen.
This year's forum welcomed over 900 participants from various countries including Lebanon, Palestine, Syria, Egypt, Iraq, Kuwait, Morocco, Saudi Arabia, the United Arab Emirates, Qatar, Mexico, the Netherlands, the United Kingdom and the United States.
This third annual Teacher Skills Forum is hosting over 130 workshops addressing mental health, interactive pedagogies, leadership, early childhood, innovation and entrepreneurship, and special learners.
Other sessions included teachers and professionally led activities, reflective sessions and exhibitions, addressing the topic of deconstructing and reconstructing learning targets.
Related Articles
Sep 06,2014
The Queen Rania Teacher Academy (QRTA) is organising a regional "Teacher Skills Forum" in early December, the academy said in a statement released Saturday.
Dec 07,2015
AMMAN — The second Teacher Skills Forum concluded on Sunday after two days of intensive activities that enlightened hundreds of educators fr
Feb 07,2017
AMMAN — Encouraging teachers to experiment with more creative and innovative teaching methods continues to be the end-goal of the Teachers S
Newsletter
Get top stories and blog posts emailed to you each day.