You are here
Digital economy holds great potential for refugees, Jordanians alike, expert says
By Dana Al Emam - Mar 02,2017 - Last updated at Mar 02,2017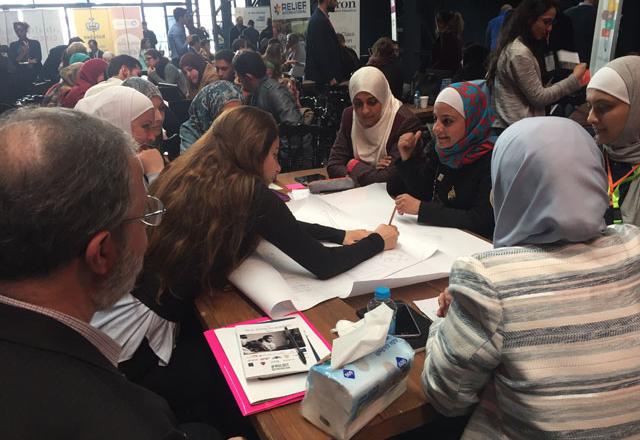 Participants at the No Lost Generation Ed-Tech Summit 2017 discuss potential projects in Amman on Thursday (Photo by Dana Al Emam)
AMMAN — Technology could help address some of the education and skills challenges caused by the Syrian crisis, participants at the No Lost Generation (NLG) Ed-Tech Summit 2017 have suggested.
Held by World Vision, in collaboration with Microsoft and NetHope, the two-day event, which concluded on Thursday, provided a platform for Jordanian and Syrian participants to connect with innovators, government, donors and technology specialists.
Led by UNICEF and co-led by World Vision, Save the Children and Mercy Corps, the NLG initiative has 20 active partners at the regional level.
In addition, there are 100 partner international NGOs, national NGOs and UN agencies which collaborate with key government agencies working on the ground to support NLG's objectives.
In an interview with The Jordan Times on Thursday, Mark Chapple, head of the NLG initiative, said the event brought together Jordan-based individuals with innovative ideas, global technology companies — such as Google, Facebook, Cisco and Microsoft — UN agencies and several NGOs.
A total of 180 people registered for the conference, which also hosted 32 exhibitors.
"Entrepreneurship will be critical for developing the economy in Jordan… the economy has been struggling [amidst] regional issues," Chapple said, adding that hosting refugees in countries like Jordan and Lebanon puts "a lot of pressure" on existing systems.
"Everyone in the room has the big focus: how to support young Jordanians and refugees," he said, adding that the event supports young people to develop business plans and provides all participants with the opportunity to network and hone their skills.
He cited a study showing "a huge gap" between the numbers of appropriately skilled people in digital technology and the need for such skills in the economy, adding that estimates show that by 2020, there will be nearly 5 million vacant jobs requiring such skills globally without qualified candidates.
Examples of technological innovations could include the use of mobile apps, video learning, tablet-based literacy tools, online courses, educational games, remote-teacher training, online assessments and teacher-monitoring tools, according to organisers.
"This is a very good opportunity for Jordanians, as well as Syrian, Iraqi and Palestinian refugees, to learn these skills so they can take part in the digital economy," Chapple noted, adding that the digital economy will be more convenient and flexible for workers as it offers access, portability and mobility.
To take action plans to the next level, the summit has secured seed-funding grants totalling $235,000 and will link those with business plans to business incubators and offer them follow-up programmes.
Zahra, a 23-year-old Syrian refugee who lives in Zaatari camp, some 90km northeast of Amman, said she took part in the summit because she is keen to develop her personal skills in order to advance her community, not only in the camp but in the larger Syrian community, when she returns to her home country.
She participated in a group that pitched a business plan for an electronic storytelling system that engages children in selecting and narrating stories on topics of maths and science. These stories are of educational value for children between the ages of four and six.
Zahra's fellow 32-year old Syrian refugee, Manar, was also part of that group.
Adrienne Yandell, from ReBootKamp, said the event was a good networking opportunity for an organisation that provides software engineering training programmes for unemployed Jordanians and Syrians.
The summit sought to bring together people from the private, public and development sectors to showcase and brainstorm tech-based solutions to the education and skills challenges caused by the crisis in Syria, according to organisers.
The event was part of the NLG initiative, launched in 2013, to supports children and youth impacted by the crisis. The initiative covers Syria, Turkey, Lebanon, Jordan, Iraq and Egypt.
Related Articles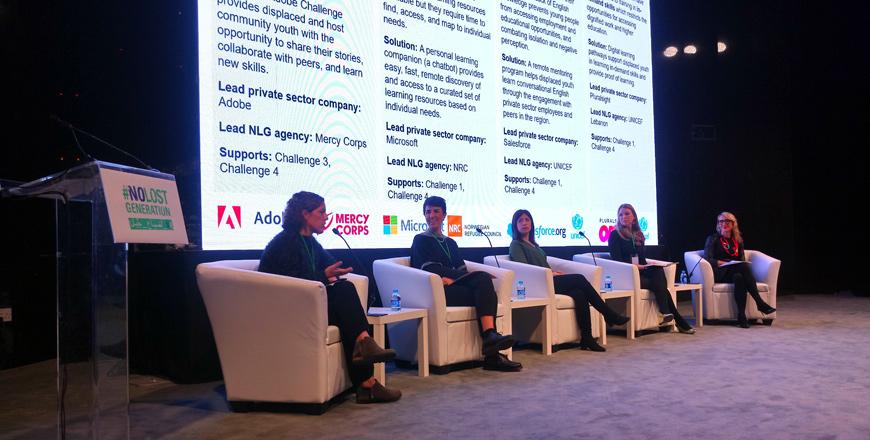 Feb 21,2018
AMMAN — "It has been five years since the opening of the Zaatari Refugee Camp and our lives have changed drastically since," said Reem,
Feb 19,2018
AMMAN — Syrian crisis humanitarian experts will join forces with tech companies, donors, investors, and youth to host the "No Lost Generatio
Feb 13,2017
AMMAN — The No Lost Generation (NLG) EdTech summit on March 1 and 2 is attracting participants from the public, private and development sect
Newsletter
Get top stories and blog posts emailed to you each day.