You are here
Debate arises over impact of crashing oil prices on commodity service costs
By Omar Obeidat , Khetam Malkawi - Jan 16,2016 - Last updated at Jan 16,2016
A man leaves a mall after shopping in Amman last week (Photo by Hassan Tamim)
AMMAN – Consumers, activists, suppliers and regulators are involved in a blame game over prices of commodities as global oil prices have plummeted to a 12-year low.
Consumers and their advocates blame businessmen, both manufacturers and importers, of seeking to line their pockets, while suppliers blame the government for not lowering transportation fares and Aqaba Port's handling fees.
Late 2012, following the government decision to remove fuel subsidies, traders said prices of commodities might go up by at least 30 per cent because importers would seek to offset the increase in shipping costs. At that time global oil prices were around $120 a barrel.
Some consumers say that prices were hiked then, but never went down when oil became much cheaper.
They urge a 1970s style of government interference in the price of every item on shops' shelves.
In response, a commercial sector leader claims that people need to learn how to shop, directing fire at activists for not educating the public in the right spending behaviour, with another representative for foodstuff merchants insisting that prices of many commodities have already gone down.
"Why do prices of goods and services surge when the price of oil is high but they never come down when it is low?" asked Rawan Ababneh, an employee at an NGO based in Amman.
Ayham Otoom accused traders of taking advantage of the fact that the government does not set a cap for prices of commodities, charging that suppliers focus only on making profits without taking into account financial and living conditions of citizens.
"What goes up never comes down," said Otoom, a private sector employee.
Lubna Qasem, a teacher in Amman, said prices on the local market should be monitored by the government as "prices of the majority of products –– either made in Jordan or imported –– are becoming more and more expensive".
Consumer Protection Society (CPS) President Mohammad Obeidat said that as oil prices have seen a sharp decline over the past three years, prices of goods and services should also drop.
Energy used to represent a burden on goods manufactured in the Kingdom in terms of cost, but this is no longer the case, he told The Jordan Times, adding that shipment costs for imported goods also declined.
According to the CPS president, prices of oil on the global market have plummeted by as much as 75 per cent since 2012 — from a peak of around $125 a barrel to around $30 now.
Although the government cannot interfere in prices, it still can make indicative prices for essential products, Obeidat suggested.
Traders' counter-claims
Ghassan Kharfan, vice president of the Jordan Chamber of Commerce, said the government is to blame for the rising living costs in the country although it had lowered fuel prices sharply.
He said shipment costs from Aqaba Port have not dropped, citing other costs importers have to pay such as fees for handling at the port as well as fees to the Aqaba Container Terminal.
Kharfan said shipping a 40-foot container-from China to Aqaba costs around $500, while shipping the container from Aqaba to Amman would cost around $1,000.
Commenting on the Cabinet decision in October last year that lowered sales tax on clothes, bags, watches, perfume, jewellery, toys and cosmetics from 16 to 8 per cent, he said retailers are offering large discounts on such items, so a large part of people's needs is witnessing falling prices.
"A weakening purchasing power and the huge competition in the domestic market are pushing traders to lower prices and to make attractive discount offers," Kharfan said, blaming consumers for insisting on buying certain brands of food and other goods.
"Why don't people check more than one supermarket and buy from the cheaper place?" he asked, adding that consumers would not find a difference in quality between certain brands and other alternative products due to strict measures imposed by the Jordan Standards and Metrology Organisation, the Jordan Food and Drug Administration and other regulatory agencies.
Kharfan said the CPS should direct consumers on how to save while shopping instead of accusing merchants of seeking higher profits.
Foodstuff Traders Association President Khalil Haj Tawfiq agreed with Kharfan, stressing that there is a high degree of diversity in products offered on the local market that would give consumers the choice to pick according to their budgets.
Prices of food commodities have dropped by between 10 to 40 per cent over the past two years, Haj Tawfiq added, noting that merchants are not making high profits as many consumers assume because of the increasing competition between them.
Spokesperson of the Ministry of Industry, Trade and Supply Yanal Barmawi told The Jordan Times that prices have either been stable or dropped, adding the ministry is monitoring the domestic market by surveying changes in prices.
The ministry is watching how the drop in oil prices is reflected the prices of goods and services by urging traders to lower the prices of their products, he added.
"If there were any unjustifiably high prices, the government can intervene. We have done this before when it came to essential items," he said.
Related Articles
Nov 13,2014
Jordanian consumers are not spending as much as they used to, according to commercial sector stakeholders. 
Feb 01,2016
AMMAN – Jordanian households were described by consumer behaviour experts as overspenders that rarely budget their expenses. In recent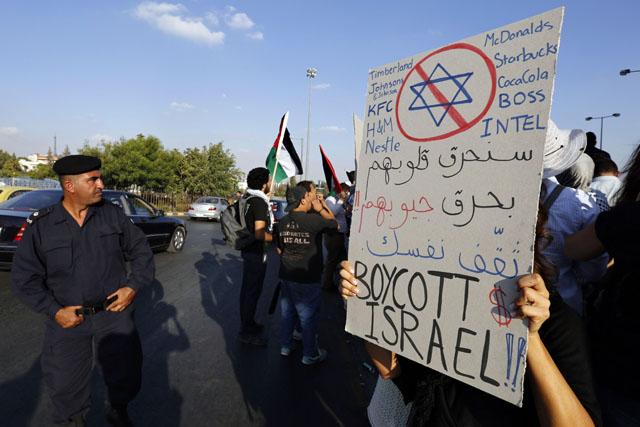 Aug 06,2014
The Amman Chamber of Commerce (ACC) has called on merchants and importers to boycott Israeli seaports in solidarity with the people of Gaza.
Newsletter
Get top stories and blog posts emailed to you each day.