You are here
Confronting 'freedom decline' humorously — Bassem Youssef says satire, politics inseparable
By Suzanna Goussous - Jan 10,2017 - Last updated at Jan 10,2017
AMMAN — Media and comedy are among the most powerful tools to get the message through from the people to the people, as satire cannot be separated from politics and current events, Egyptian media critic and comedian Bassem Youssef said on Tuesday.
After hosting the first season of his "El Bernameg" programme, a satirical news show styled after "The Daily Show" in September 2011, in the aftermath of revolutions that erupted across the Arab world, Youssef said there was a "window" for media freedom.
However, freedom of expression and speech has since recorded a decline, he said.
Youssef is in the Kingdom to host two live shows on January 12 and 13 at the Cultural Palace in Al Hussein Youth City. The event is organised by Bridges, Talent Overdose, LG, Cell Avenue, AMENA, Go Tech and Toyota.
"There was a beam of light in [former Egyptian president Mohamed] Morsi's time, but unfortunately, for different reasons, media freedom witnessed a setback afterwards," he told The Jordan Times.
The Egyptian authorities had banned Youssef's show after receiving complaints that it "disrupts public order" in its second season in June 2014.
Later, he appeared in a press conference announcing the cancellation of the show due to "pressures" he faced.
To Youssef, the most challenging part was to maintain the mission to widen the openness of criticism levelled at events and figures in the country and introducing a "change" to the people.
"We started the show to criticise those in charge. Many liked the show when the criticism went well with their views, but opposed it when they didn't agree — regardless whether the criticism had a point," he added.
Many people cannot differentiate between hate speech and freedom of expression in media, Youssef said, explaining that hate speech incites violence and discrimination against a specific group of people.
Meanwhile, freedom of expression entails stating one's personal opinion on a policy or an authority's decisions.
"With every show, I aim to deliver my message to the people — to question what they see on media outlets and critique it and take a deeper look at matters so that they realise that they shouldn't take everything for granted," the comedian noted.
Falah Sughayer, from the organising team of Bridges, said the two-day event aims at boosting the tourism sector in Jordan, adding that strict security measures will be taken at the venue.
Organiser Nizar Samerrai said the Arab world has been in dire need of comedy over the past few years, with the crises taking place in the region.
"It is the most effective way to convey positive messages to the public," he said at a press conference held at the AMENA organisation.
AMENA Director Juman Ammari said media representatives and comedians always play a role in delivering a message for a cause, like children with autism.
Local entrepreneur Samerrai, in cooperation with Youssef, co-founded the "Talent Overdose" company to support and promote young talents in Jordan and Palestine in the field of stand-up comedy by linking them to agencies and adopting them.
A percentage of the show's proceeds will go to the AMENA organisation for children with autism, organisers said.
Youssef's 60-minute live show will be held at 8pm on both days. Tickets are available at www.sajilni.com.
Related Articles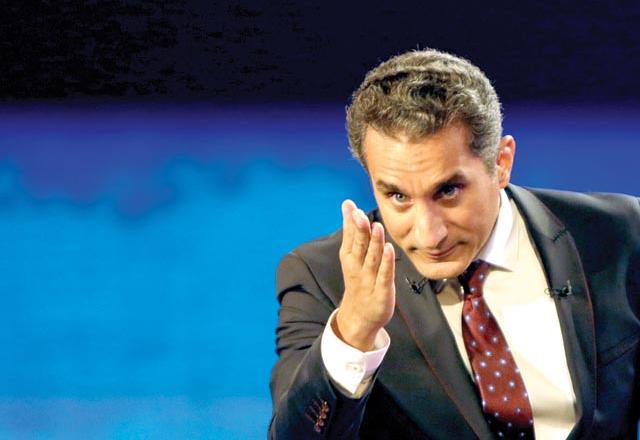 Jun 02,2014
Egypt's top TV satirist said on Monday his show had been cancelled, amid speculation it was because his latest script poked fun at a presidential election won by the former army chief.
Nov 01,2015
AMMAN — Comedians and artists joined forces at a show on Saturday titled "Blissteria", which aimed to spread positive feelings among Arab au
Dec 23,2014
A prominent Egyptian satirist has been fined millions of dollars over a dispute with a television channel which suspended his show after it lampooned military leaders, officials said Tuesday.
Newsletter
Get top stories and blog posts emailed to you each day.