You are here
Confiscation of domestic workers' passports deprives their children of documentation, education
By Sawsan Tabazah - Jul 12,2018 - Last updated at Jul 12,2018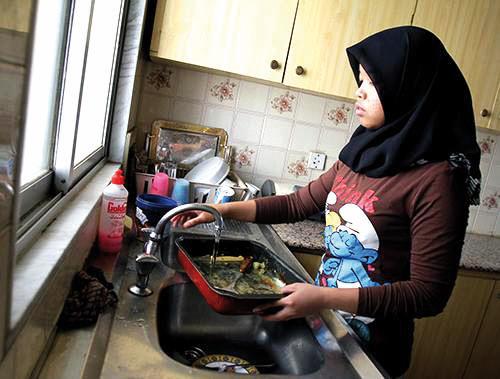 Holding no work permits and being unable to pay the overstay fines are deterring these women from reaching out to the Ministry of Labour or police (File photo)
AMMAN — Some domestic workers are facing troubles in registering their children born outside wedlock or undocumented marriages as a result of passport confiscation or loss and lack of awareness about birth documentation procedures in Jordan.
Rohani, an unregistered domestic worker and mother of a nine-year-old boy, said her recruitment agency confiscated her passport nine years ago and is now asking for money to barter it.
"If I had money, I would have taken my passport and gone to the court to issue a legal marriage document and a birth certificate for my boy," Rohani told The Jordan Times during a recent social gathering of Indonesian domestic workers in Amman, where around 50 mothers expressed their worries over their children's inability to receive education without birth certificates.
According to the civil status law, issuing a birth certificate requires foreigners to provide marriage certificate, a copy of their passports and a birth report (an official document from the hospital which supervised the childbirth containing the newborn's information).
Documenting marriages in Jordan requires providing a copy of the passport or ID to the Sharia Court or church, where legal marriage affairs are settled, but domestic workers' personal documents were either lost or confiscated by recruitment agencies or employers.
Many of the women interviewed by The Jordan Times hold no marriage certificates, passports and some do not have birth records for their children as they were delivered at home.
Holding no work permits and being unable to pay the overstay fines is deterring these women from reaching out to the Ministry of Labour or police to get their passports back, they explained.
Like Rohani, some women are living with their partners and children as a family, but others, like Titini, are single mothers living with their children whom they had outside wedlock.
Titini, who lost her passport 10 years ago, gave birth to her 3-year-old boy in the house because she could not afford a private hospital's bill and was afraid she would imprisoned for having a child outside marriage if she delivered at a public hospital.
"Consequences of passport confiscation affect not only domestic workers but also their children, of whom a large number are undocumented and hold no birth certificates either because they have no birth records or their fathers denied to admit paternity of their children," said Linda Kalash, president of Tamkeen Fields for Aid.
The number of children with no birth documents cannot be determined, but Kalash thinks it is "high" and requires the attention of the government as Tamkeen has received and dealt with so many cases.
She said that children will not be able to receive education and medical care since they hold no identity documents. "They have no rights," she stressed.
But Kalash stressed the importance of proving these children's maternity with DNA tests to check if the baby truly belongs to the domestic worker.
Another issue the children will face if they decide to leave the country in the future or if they are caught by the police is the overstay fines, which non-Jordanians are applicable to since birth, at JD1.5 per day, the organisation's president added.
The official figure shows that there are around 50,000 registered domestic workers in Jordan but the number of those unregistered is unknown.
Coordinator of "My Fair Home Campaign", a regional endavour to raise awareness on domestic workers' rights, said in previous remarks to The Jordan Times that there are around 75,000 domestic workers in Jordan, 26,000 of whom do not hold personal documents, such as work permits or passports
But the domestic workers recruitment agencies association acting representative Ziad Riyalat denied that agencies confiscate passports, saying that such official documents are handed to the employer who gives the domestic worker the passport or keeps it during her or his stay at home to avoid its loss.
Akef Maaytah, a lawyer and a legal expert in marriage issues in Sharia Courts, said that the Jordanian law considers all affairs outside the legal frame of marriage as illegal and a penalised act.
However, those who seek to document their marriages are not prosecuted, but they have to pay a fine worth JD1000, Maaytah explained.
Under Article 7 of the Convention of the Rights of Child, a "child shall be registered immediately after birth and shall have the right from birth to a name, the right to acquire a nationality and, as far as possible, the right to know and be cared for by his or her parents". Jordan ratified this Convention in 1991.
Newsletter
Get top stories and blog posts emailed to you each day.