You are here
Care for chocolate jameed, anyone?
Local chef gives iconic mansaf ingredient a new life line, and for a good cause
By Camille Dupire - Dec 14,2017 - Last updated at Dec 14,2017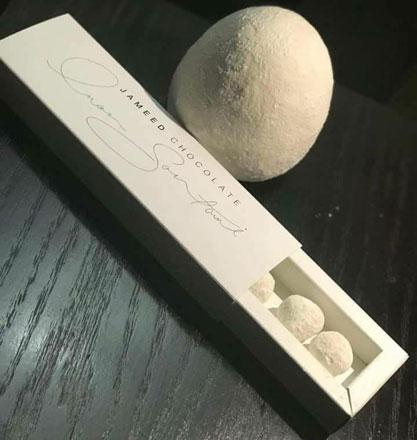 Chocolate jameed ready for sale and proceeds go to help save lives (Photo courtesy of Omar Sartawi)
AMMAN — For most Jordanians the iconic mansaf dish cannot be separated from its essential twin ingredient: jameed. However, to the surprise of all, local chef Omar Sartawi gave the salty dried yoghurt a new life through his jameed chocolate, launched in celebration of the festive season.
Born from a century-old traditional method of preserving ewe or goat's milk-turned-yoghurt through shaping, salting and sun-drying, jameed's stone hard balls have become a symbol of the Jordanian cuisine, almost solely used alongside the lamb-based dish.
"It took me more than three months to come up with the final recipe. I went through the weirdest experiments, including one of the recipe that exploded in people's mouth!" Sartawi recalled.
For the Jordanian chef, creativity is the main ingredient in any recipe. "It is all about taking simple familiar ingredients and giving them a surprising twist — more so — a transformation," he told The Jordan Times, stressing the difficulty of finding the perfect combination between two diametrically opposed flavours.
"I wanted to reconcile two parallel universes: the sourness of jameed and the sweetness of chocolate but, at the beginning, I failed to see the simplest way to do it. I used to try to combine the best culinary techniques for both products and it just wouldn't work," Sartawi said.
"With its unique character, aroma, taste and even after taste, jameed is a very complex material to work with because it kind of overtakes everything," he explained, noting that his goal was to "make jameed exotic for a Jordanian and familiar for a French or Belgian person".
Nevertheless, the local chef is not being naïve about the public opinion of his creation, acknowledging that people "either love it or hate it".
"I don't like apologetic outcomes in cooking. Cuisine has a spirit and any food has an impact on you. It will either offend your taste buds or make you love it," he noted.
The signature creation, which is part of his new brand "Alchemy", has indeed stirred mixed reactions on social media since it was launched, with users describing it as "either a miracle or a massacre".
The odd truffle-like concoction triggered foodies' interest in Jordan and worldwide, with Jordanian Nadia Abu Mahfouz writing on a Facebook post about the product: "Definitely going to try it! My two favourite
flavours combined."
Others show more scepticism regarding the combination. "I tried it, the after taste was horrible," wrote Rola Fayyad, adding nonetheless, that "the concept is strange, but I think everyone should try it".
Available in a stylishly designed gift set, the chocolate's proceeds are entirely donated to the King Hussein Cancer Foundation, as an honour to Sartawi's aunt.
"My aunt, whom I was very close to, died of cancer two weeks ago, and I wanted to make this brand of chocolate in celebration of her memory, especially for the Christmas season," the young man explained.
Bombarded with orders from Jordanians and foreigners across the globe, the young chef cannot believe the tremendous popular success of his odd concoction.
"People from around the world are asking me to ship some boxes for them. But, because they are all individually handmade, it is a huge amount of work," he said in-between two orders.
Related Articles
Mar 21,2015
The Jordan Valley's tomatoes and Ajloun's olive oil were among local ingredients incorporated into French dishes served as part of an international activity celebrating French gastronomy.
May 10,2015
Watson already has won a major TV game show, is looking for a cure for cancer and has ambitious gastronomy ambitions including devising a recipe for chocolate-beef burritos.
Apr 10,2018
Jordanian food is much more than the iconic national dish — mansaf. It varies across governorates and geographic regions.
Newsletter
Get top stories and blog posts emailed to you each day.