You are here
Captain Care demands met as operational age of ride-hailing cars extended 2 years
By Bahaa Al Deen Al Nawas - Oct 22,2019 - Last updated at Oct 22,2019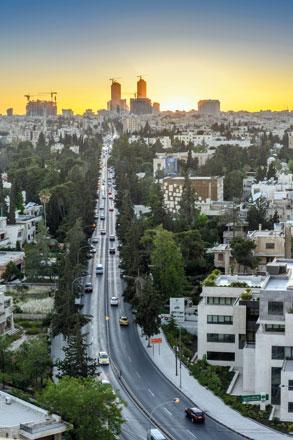 Following driver demands, the LTRC issued a decision this week that prevents ride-hailing application companies from suspending a driver's permit without filing a request specifying the reasons for revocation, protecting them from abrupt suspension (Photo by Amjad Ghsoun)
AMMAN — The Land and Transport Regulatory Commission (LTRC) on Tuesday extended the operational age of cars working with ride-hailing applications from five to seven years.
This was in response to a demand by the Ride-Hailing Application Drivers' Dialogue Committee (Captain Care), an official committee that discusses the problems and concerns of application drivers with official entities like the LTRC
"Captain Care started a year and a half ago with several demands, and after a lot of effort, discussions and sessions with the Transport Ministry and the LTRC, today our latest demand was finally met," Ahmad Hailat, founder of Captain Care, told The Jordan Times on Tuesday over the phone.
Among Captain Care's other achievements is the registration of work permits under the driver's name instead of the name of the company, which allows drivers to work for multiple companies at once.
Drivers now pay JD400 to issue the permit, he said.
Another demand approved by the LTRC authorised permit owners to register a close relative on the same permit, paying a lower fee, according to Hailat.
The Captain Care founder said that drivers previously lacked legal protection against some companies' policies, which left some victim to abrupt cancellation of permits and in debt after having taken out loans to purchase modern cars to work with the applications.
Following driver demands, the LTRC issued a decision this week that prevents ride-hailing application companies from suspending a driver's permit without filing a request specifying the reasons for revocation, protecting them from abrupt suspension.
The day after the decision, a driver reported that one of the companies refused to renew his permit because he had worked with different companies, although his permit allows him to do so as it is under the jurisdiction of the LTRC.
On that note, Director of the LTRC's Media and Communications Department Abla Weshah told The Jordan Times that "the commission's doors are open for any complaints by drivers over any disputes with the companies they work with, and will work on resolving said issues".
"The two biggest ride-hailing application companies in Jordan are allowed to register 6,000 drivers, for which they pay JD100,000 annually, meaning that one driver costs the company only JD16.6 annually," Hailat said, noting that other registered national companies are allowed only 375 drivers, and these companies pay the same amount, with one driver costing them around JD276.
Even though the "most vital" demands have been met, Hailat said, there are still issues that require attention and work.
These issues include enhancing support for national companies, regulating the cap the commission companies take from a driver per trip and dealing with violations, such as when a company lets drivers work without officially registering them.
"Captain Care will continue to provide logistic support to all drivers in need, and we will continue working to bring more incentives and advantages for them," Hailat said.
Newsletter
Get top stories and blog posts emailed to you each day.