You are here
Business sector eager for return to normality as offices open at border
Out of 17,000-truck fleet in Jordan, around 5,000 used to operate to and via Syria border
By Mohammad Ghazal - Oct 17,2018 - Last updated at Oct 17,2018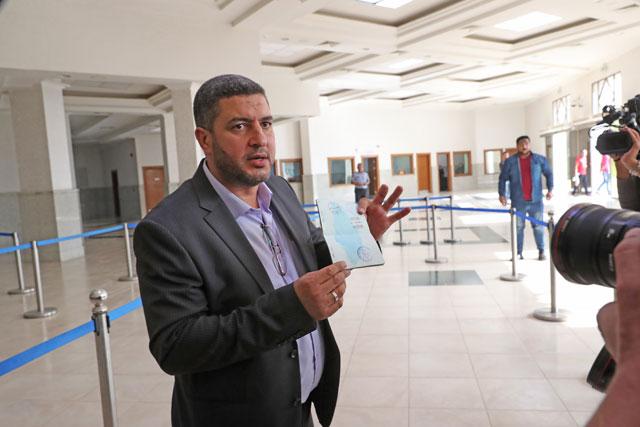 Clearance offices resumed their work, on Tuesday, as cargo movement between Jordan and Syria is expected to start next week, sparking optimism among business representatives (Petra photo)
AMMAN — Cargo movement between Jordan and Syria is expected to start next week, as 30 clearance offices resumed their work at the Jaber border crossing with Syria, according to sector leaders.
Cargo movement, which was halted in 2015, forced more than 172 clearances companies to shut down their offices at the border crossing and put more than 5,000 trucks drivers out of work as Syria was not only a big market for Jordan but also a major route for Jordanian commodities to other markets, they said.
"Around 30 clearances offices opened today at the border crossing and more will open soon… They are in the process of finalising some paper work and I expect the cargo movement to start next week," Deifallah Abu Aqouleh, president of the Association of Owners of Clearance and Transport Companies, told The Jordan Times on Tuesday.
"We have been receiving many calls from traders from the Gulf, Lebanon and Syria about when the freight movement will be resumed, as they are eager to start their exporting and importing commodities using trucks, which is less costly for them," he said.
After the closure of the Jaber border crossing, traders in the region resorted to relying on maritime transport, which affected their businesses.
"We are very happy the crossing is reopened and looking forward for the resumption of cargo movement… traders are eager to start doing business," he said.
Some offices are working on renewing their licences and completing some logistical work before they start their operations, he added.
Mohammad Dawoud, president of the Jordan Truck Owners Association, said the land transport sector losses exceeded JD760 million after the closure of borders with Syria and Iraq, voicing hope there will be recovery very soon.
Out of the 17,000-truck fleet in Jordan, around 5,000 used to operate to and via the Syria border.
"Owners and drivers of these trucks are ready to resume business as it used to be before the closure of the borders… we are optimistic," he told The Jordan Times Tuesday.
"Resumption of cargo movement will help traders use the Mediterranean sea ports faster and have easier access, which will speed up the process of exporting and importing… Syria is a strategic market and land transport via Syria enables us reach markets that are of great importance to the Jordanian economic sectors and industries," Dawoud added.
The Jaber/Nasib crossing between Jordan and Syria was back to business as usual on Monday, after it was reopened for passenger and cargo movement under certain conditions agreed to between the two countries.
The crossing had been closed for three years due to the security situation in southern Syria.
Newsletter
Get top stories and blog posts emailed to you each day.