You are here
Authorities prepare wildfire action plan
By Maram Kayed - May 21,2020 - Last updated at May 21,2020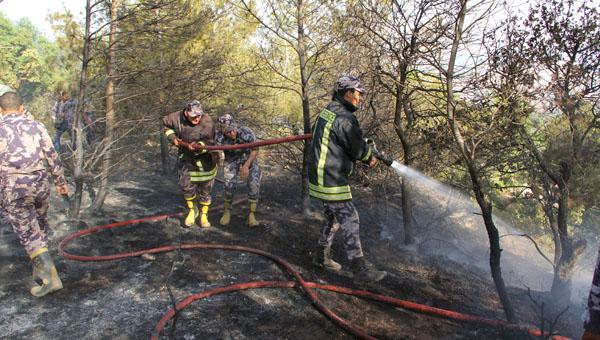 The Civil Defence Department urged the public not to light fires in vegetated areas 'for any reason', including burning weeds and bushes in their gardens and farmland (File photo)
AMMAN — Minister of Environment and Acting Minister of Agriculture Saleh Kharabsheh on Thursday toured wildfire areas in Jerash, directing both ministries to boost their preparations for similar events in the future.
In a statement made available to The Jordan Times by the Ministry of Agriculture, Kharabsheh said that these fires are "highly probable to break out again in the summer and may extend over forests scattered in all regions of the Kingdom".
Minister of Agriculture Spokesperson Lawrence Majali told The Jordan Times that a contingency plan has been put in place to deal with any potential fires in summer, highlighting that the danger of such events usually starts from the first of May until the end of the year.
The plan, Majali noted, was drafted and will be executed by the forestry directorate and agricultural directorate in each governorate.
Establishing new roads and revamping old ones as well as drafting clear fire lines within forests and surrounding areas in order to improve future firefighting operations are among the top priorities of the plan.
Firefighting teams equipped with the latest equipment will also be formed in all regions of the Kingdom with a focus on high-density forests.
Kharabsheh said that it is "necessary" that all official bodies, such as the Ministry of Interior, the Ministry of Municipalities, the Civil Defence Department, the Greater Amman Municipality and the Ministry of Water and Irrigation in addition to the civil authorities, cooperate in this regard so that "each party will do what is required of it promptly in the outbreak of a wildfire."
He also instructed media and guidance teams in the Ministry of Agriculture to continue spreading awareness messages through official media outlets and social platforms, with a focus on the dangers of lighting fires near forests.
"We are betting on the awareness of people and environmental associations to protect forests, which are the lungs for all of us and represent the aesthetic face of Jordan, and thus are the responsibility of each and every citizen," the minister added.
Newsletter
Get top stories and blog posts emailed to you each day.