You are here
Art project brings colours to Zarqa's public school
Schoolchildren, local artists partner to create large scale uplifting mural in underprivileged area
By Camille Dupire - Sep 13,2018 - Last updated at Sep 13,2018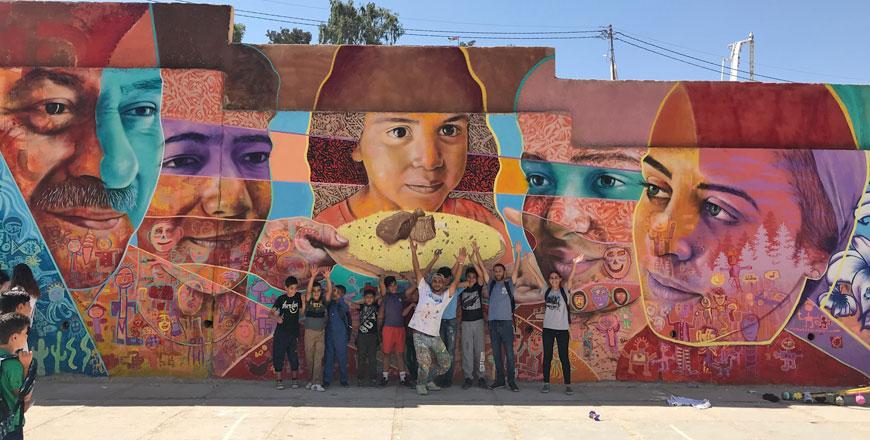 Schoolchildren from Zarqa take part in the art project to beautify their school in Zarqa Governorate recently (Photo courtesy of Artolution)
AMMAN — The schoolchildren of Zarqa last week took part in a radical artistic makeover, whereby they skillfully painted the walls of their local boys school with colourful and uplifting designs co-created with local artists.
Initiated by the community-based public art organisation Artolution, the project aimed to "ignite positive social change" among the local community, by bringing together children, families, local artists and educators through collaborative art making, Artolution co-founder Joel Bergner told The Jordan Times on Wednesday.
"In remote areas like this one, young children rarely have access to creative opportunities, due to a lack of funding, structural support, or many other reasons," Bergner pointed out, noting that, thanks to a partnership with the German Agency for International Cooperation, and Artolution co-founder Max Frieder managed to set up the interactive beautifying project in the eastern governorate.
An artist himself, Bergner said Artolution came out of the belief that "through the process of creating collaborative art, diverse communities can come together in times of conflict and social turmoil to address the challenges they face together and address common social objectives".
Covering an entire side of the local school, the impressive mural displays an intricate mix of portraits, characters and landscapes, all emanating from the imagination of the young pupils involved.
"We started out with a simple workshop where we asked the 50 boys 'what do you want to paint about?' showing them how they could be part of something beautiful that would contribute to their community," Bergner explained, adding that each of the children, aged from 10 to 14, came up with his own ideas and designs.
"It was important for us to portray scenes of their daily lives, as it is their environment we are beautifying. We wanted them to be able to say 'look, that's my drawing' or 'that's my uncle's face'," the artist underlined, noting that the entire bottom half of the six-metre high mural was painted by the school boys.
"Obviously, the mural was too high and too difficult to be done entirely by non-professionals, which is why we partnered with seven local artists. But the overall idea and all the details were produced by the children," he underscored.
One of the participating artists, Ibrahim Tonnerieux, said he was drawn to this project because he had "always wanted to do good with my art and this was a great example of using art in changing the world into a better place, at least for a few kids".
"Unlike other projects, we had a direct connection with the kids and we painted their ideas with their help," he told The Jordan Times on Thursday, stressing that"unlike Amman, Zarqa doesn't have a lot of art on its walls it is not really present there. I believe there should be more of it because it really brings positivity into the area".
Joanna Arida, who also volunteered with the project, agreed with Tonnerieux, saying: "It was a really cool way of working with children and helping them to express themselves through art."
"I think that it's important to create murals such as this one — especially in Zarqa — because it encourages children who grow up in traditional communities that might frown upon an artistic career path to invest in any creative or artistic passions that they have," she told The Jordan Times, exclaiming "I mean, if we could do it, then why not them!"
Building on the trend of street art recently rising in Jordan, the project was only "one of the first stones" on a much bigger path, according to Bergner, who outlined Artolution's plan to develop sustainable, self-running art projects around the Kingdom, similar to the one currently taking place in Azraq refugee camp in collaboration with CARE International.
"These projects provide a platform for young people to creatively explore their experiences while connecting with positive adult role models in their community, an important step in the healing process," Artolution's founders wrote on their website, adding: "Through Artolution initiatives, young people have the opportunity to make a contribution to their communities, creating colourful, uplifting murals with messages of hope in some of the bleakest environments on earth."
For Bergner, one of the most powerful moments of these projects comes at the end, when the final piece is unveiled to the local community.
"For kids to see the admiration in the public's eyes, and adults clap for them is an incredibly moving moment. I was truly impressed by the level of engagement and passion of these boys, and the whole community's pride," Bergner concluded.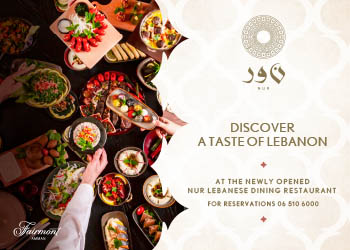 Newsletter
Get top stories and blog posts emailed to you each day.