You are here
Amman hospital offers 'top-notch medical services' to underprivileged Jordanians, refugees
By Saeb Rawashdeh - Dec 15,2016 - Last updated at Dec 15,2016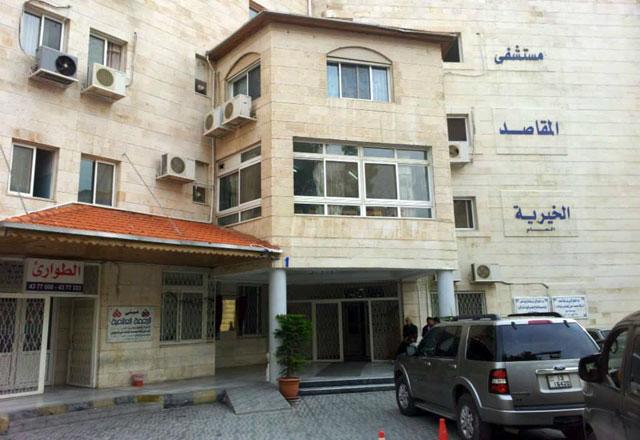 Al Maqased Charity Hospital in Hai Nazzal serves underprivileged Jordanians and refugees from various nationalities (Photo courtesy of Al Maqased Charity Hospital)
AMMAN — "I love my job because I can help people in need," said Sabrine Noubani, the secretary at Al Maqased Charity Hospital in Hai Nazzal, an east Amman neighbourhood.
Noubani cannot hide her happiness once patients leave the hospital satisfied and treated by the team of local and international doctors.
The hospital, established in 2014, has been providing services to Syrians, Iraqis, Somalis, Sudanese, Yemenis and Libyans as well as to Jordanians for nominal fees.
"After I graduated from Al Zaytoonah University of Jordan, I joined Al Maqased Charity Hospital in February 2014, even before the official opening," said Osama Al Khalidi, the nursing director.
In the beginning, he worked as a trainee for three months before joining the medical team as a full-time employee.
"My main motive, once I became a staff nurse, was to finally assist needy refugees and poor people from the local community in one of the most densely populated areas of Amman," he told The Jordan Times recently.
The hospital currently has 90 beds, and the management plans to expand to 120 beds in the coming months.
The goal of the staff is to improve the hospital to become an "A class" medical facility, Khalidi underscored, by continuing with the opening of new wards, "to boost communication with the local community and offer patients top-notch conditions and medical treatment".
Due to its mostly free services to the underprivileged local population and refugees who came to the Kingdom from different parts of the Arab world, Al Maqased Charity Hospital deals with tens of thousands of patients annually.
"Sometimes, 90 patients stay overnight in post-surgical treatment," Khalidi continued, adding that the hospital policy is to keep such patients for at least two days for observation.
As a nursing director, Khalidi is in charge of around 70 nurses.
"The good thing here," he continued, "is that we have delegated head nurses responsible for their units".
Each of them is obliged to report to the nursing director, who evaluates their performance and can promote or sanction them if he sees any malpractice.
"We currently have four major and one minor operation theatres at the hospital," said physician Ashraf Nawafleh, a retired general of the Jordan Armed Forces-Arab Army, who worked 25 years at the King Hussein Medical Centre, specialised in obstetrics and gynaecology.
Nawafleh joined Al Maqased Charity Hospital in July this year, became a director and changed the focus of the institution from being exclusively dedicated to treat Syrian refugees to take on a more general role of helping local communities and other refugees residing in Jordan.
"We want to depend on the local communities and serve all needy people regardless of their origin," he noted.
The Ministry of Health cooperates with the hospital by exchanging patients, the director underlined, adding that the new phase of development will be opening dermatology, cosmetics, IVF( in vitro fertilisation) and ophthalmology wards.
"In the beginning, 90 per cent of patients and staff were Syrians, while now, 90 per cent of them are Jordanians," Nawafleh explained.
He emphasised the collaboration with the NGO sector, particularly Al Haraear society, which deals with problems of divorced women and gender-based violence.
"Our hospital has 52 doctors and consultants who are volunteers," the director stressed, highlighting the role of foreign missions.
"We have missions from the US and Brazil which deal with plastic surgery, while those from Belgium and France provide orthopaedic services and other types of surgeries," the expert, who studied at the George Washington University in Washington DC, noted.
Khaled Saidi, a refugee from Syria, used to take eye drops for a seasonal allergy, but a negative side effect caused permanent cataract.
The only solution was cataract extraction and artificial lenses implantation, as his vision was 10 per cent of normal vision.
"May God help you to aid other people," he told his doctors, adding that without the clinic and specialists who treated him he would not see again.
The work at the hospital is so intense that the staff has no time to rest.
"Many times, after a long day, when I take a shower and sit to eat, I receive a call from the hospital to come immediately," said Khalidi.
But he has no regrets.
"Regardless of the sometimes tiring working pace, pressure and many tasks with nurses and patients, I feel very content and privileged, knowing that my professional engagement helps people who normally can't afford very sophisticated medical services."
Related Articles
May 23,2015
AMMAN — A medical team from the Czech Republic recently concluded a medical mission to perform surgeries on 26 Jordanian and Syrian children
Mar 30,2017
AMMAN — Two medical teams from the Czech Republic have performed surgeries on Syrian refugees and Jordanians over the past week at two hospi
Aug 21,2014
Royal Medical Services Director Maj. Gen. Khalaf Sarhan on Thursday visited Jordan's field hospital in Cairo, "Egypt 6".
Newsletter
Get top stories and blog posts emailed to you each day.