You are here
Agricultural sector on path to recovery — Hneifat
By Rayya Al Muheisen - Oct 12,2021 - Last updated at Oct 12,2021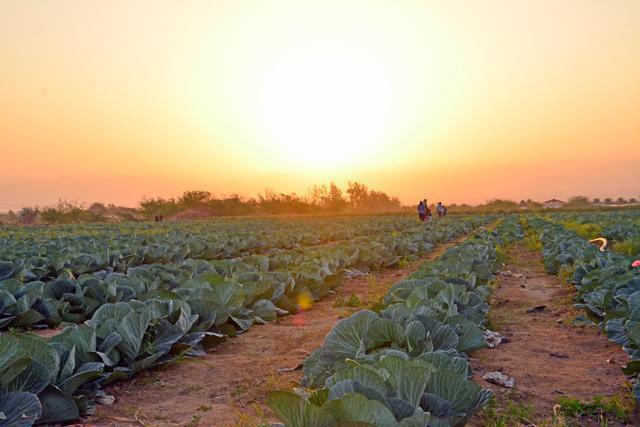 The agricultural sector's exports valued JD390 million during the second quarter of this year, according to an Agriculture Ministry statement (Petra photo)
AMMAN — Minister of Agriculture Khaled Hneifat on Monday said that the agricultural sector is on the path to recovery from the pandemic, according to an Agriculture Ministry statement.
The actual agricultural growth rate for the second quarter of 2021 is marked 3.5 per cent, which is higher than the economic growth rate of only 3.2 per cent, the statement said.
Hneifat added that the agricultural sector has adapted to the pandemic-induced economic crisis and has even contributed to the growth of other economic sectors in the Kingdom.
The agricultural sector's exports valued JD390 million during the second quarter of this year, which equates to a 17.4 per cent increase compared with 2020, according to the Department of Statistics (DoS).
The ministry aims to increase the national exports by 24 per cent by the end of the year, according to Hunaifat.
Ahmad Shuhabi, an economist, told The Jordan Times that agriculture contributes to social income and provides "productive employment" to those who live in rural areas.
Shuhabi said that when the agricultural input grows with increased productivity, the income of farmers rises.
This rise in per capita income in turn leads to a "substantial rise" in the demand for food, as well as industrial goods, he said.
Shuhabi highlighted the rise in exports results in greater foreign exchange earnings.
"The agricultural sector is considered a generator of other economic sectors, whether industrial or commercial," Abdel Hadi Qa'aydeh, a fruit and vegetables farmer and exporter, told The Jordan Times.
He said that the agricultural sector works with the industrial sector to implement the latest technologies, such as plastic sheeting and drip irrigation.
He added that in regard to the commercial sectors, farmers work with local companies.
"Therefore, the agricultural sector is a big generator for the rest of the economic sectors," Qa'aydeh said.
Newsletter
Get top stories and blog posts emailed to you each day.